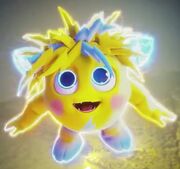 Znap
is a new character introduced in "
Electrified
". He is created accidentally when
Frankie
tries to release extra electricity that has built up in her. He appears to only know how to say his own name.
Portrayers
In English, he is voiced by Ben Diskin .
Appearance
He is fairly small, only just bigger than Frankie's hand. He has blue stripes and lightning bolts covering his yellow body. He also has spikey yellow and blue hair.
Merchandise
Znap is included attached to the Electrified: High Voltage Frankie Stein. When her arm is pressed down both he and Frankie light up.
Two other versions of Znap are also included with the Electrified: Monstrous Hair Ghouls Twyla and Clawdeen in pink and purple respectively.
Gallery
Ad blocker interference detected!
Wikia is a free-to-use site that makes money from advertising. We have a modified experience for viewers using ad blockers

Wikia is not accessible if you've made further modifications. Remove the custom ad blocker rule(s) and the page will load as expected.