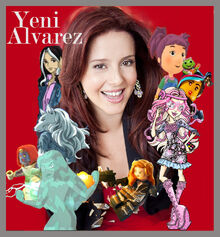 Yeni Alvarez is best known for her work as Spanish female voice of Disney Theme Parks Worldwide. She is also the voice of Carmela on Disney's Handy Manny, villain Aquamaria in Static Shock, Viperine Gorgon on Mattel's Monster High, WyldStyle in Marvel's LEGO Movie Video Game, and Angel Sanchez in Freedom: First Resistance.
Personal website
Wikipedia article
IMDB profile
Monster High
Ad blocker interference detected!
Wikia is a free-to-use site that makes money from advertising. We have a modified experience for viewers using ad blockers

Wikia is not accessible if you've made further modifications. Remove the custom ad blocker rule(s) and the page will load as expected.