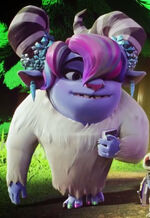 Woolee
is a yeti-like monster introduced in
Welcome to Monster High
.
Portryers
In English, she is voiced by Cristina Milizia .
Character
Personality
Not much is known about Woolee but she appears to be friendly to the other students at Monster High.
Appearance
She is purple and covered with white fluffy fur. She has large, curved, black and white striped horns. Her hair is short and has purple, pink, and white streaks.
Relationships
Friends
She appears to get along with other of the students at Monster High, however she can commonly be seen with Skelly, Bonesy, and Gob.
Ad blocker interference detected!
Wikia is a free-to-use site that makes money from advertising. We have a modified experience for viewers using ad blockers

Wikia is not accessible if you've made further modifications. Remove the custom ad blocker rule(s) and the page will load as expected.