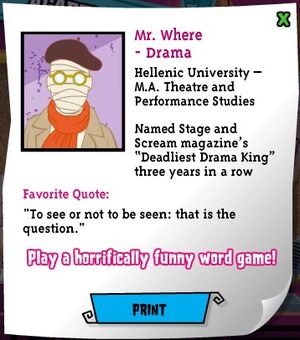 Mr. Where is an invisible man and drama teacher at Monster High. He was introduced in the webisode "Copy Canine".
Personality
Edit
Mr. Where is an intellectual, a man of culture and refinement. He keeps his composure in situations that might anger other teachers and is more inclined to hand his students advice than berate them for any mistakes. In return, he is well-liked by the students.
As an invisible man, Where needs to cloth himself all over so he can properly interact with others. He is, however, capable of turning even his clothes invisible at will.
Classic Monster
Edit
Mr. Where is based on the titular scientist from the science fiction novella
The Invisible Man
by H.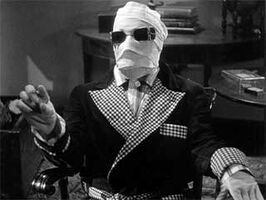 G. Wells, and the
1933 film adaption
by Universal Studios.
In the story, the invisible man is called Dr. Griffin (Dr. Jack Griffin in the film), and he used himself as guinea pig in an experiment to alter the refractive index of living bodies to that of air, so that light would no longer be absorbed or reflected and the subjects therefore would be invisible. It didn't take him long to abuse his power, eventually resulting in his demise. Upon death, his body became visible again.
Appearances
Edit
In "Copy Canine", Mr. Where surveyed during the Scary Aptitude Test.
In "Bad Scare Day", Frankie Stein didn't pay attention to her surroundings and bumped into Mr. Where. She fell to the ground, from which Where helped her get up. He advised her to not rush and listen to music at the same time.
In "Clawditions", Where sought to organize a performance of Hamlet and had Draculaura help him with the auditions. Once Clawdeen Wolf and Cleo de Nile had been fighting over the role of the leading lady for awhile, Draculaura quoted Shakespeare's The Merchant of Venice to point out their foolish behavior. Mr. Where was so impressed he gave her the part (and possibly altered the play from Hamlet to the The Merchant of Venice).
In "Rumor Run Wild", Mr. Where announced Clawdeen Wolf as the elected new Scream Queen.
In "Fear-A-Mid Power", Mr. Where hosted the debate contest between Belfry Prep and Monster High. He ignored that the Monster High team's time was taken away by its fearleaders, resulting in a loss for Monster High.
Mr. Where appears in the Monster High website game Clawdeen's Cram Fest!.
Back when the Classroom dolls were announced, there was a mention of a Classroom edition of Draculaura. Her class was drama, and as such her survival guide would likely have contained details on Where's qualities as a teacher and background. The doll has yet to be released, provided it hasn't been cancelled outright, so the same goes for the survival guide.
"Hellenic University" may be a reference to the fact that the The Invisible Man novella was partially inspired by Ring of Gyges, a Greek story about the corruption of a man who gains the power of invisibility.