Among the promotional material Mattel produces to bring attention to the Monster High doll line, the most prominent product is the Monster High cartoon series. Released as a mix of webisodes of a few minutes long and TV specials nearing an hour, the cartoon is the primary medium through which new characters and accessories are brought to the audience's attention. The 2D-animated material is produced by W!LDBRAIN and Top Drawn Animation, while the 3D-animated material is produced by Nerd Corps Entertainment. Sound for the entire series is done by Salami Studios.
Mattel currently releases a new webisode biweekly via the Monster High YouTube channel and the video portion of the official Monster High site. Generally, YouTube gets the webisodes uploaded a day before the official site. The Monster High Facebook account and the Gory Gazette put up a notice whenever a new webisode is released and also release information if the series goes on hiatus.
Mattel's plans for 2012 originally were believed to include 52 webisodes and four TV specials based on information found on page 51 of Toynews' November 2011 issue.[1][2] However, during Toy Fair 2012, Mattel adjusted the amount of webisodes planned to 30, confirmed on the website to be scheduled biweekly for most of 2012. The four specials still stand, but one's means of release are currently unclear.
Volume 1
Between May 5 and July 30, 2010, Mattel released 15 webisodes featuring the students, teachers and staff of Monster High. This was followed by a 3-month hiatus until October 29, 2010, starting which another 12 webisodes were released until January 20, 2011. The webisodes of Volume 1 are 1:47 minutes long, good for a little less than 1:30 minutes worth of actual webisode. There is almost no continuity between the webisodes and all rely on the "gag-per-webisode" format. The special "New Ghoul @ School" functions as the start of the volume, detailing Frankie Stein's first days at Monster High, though it's in conflict with the information provided in several of the webisodes.
Volume 2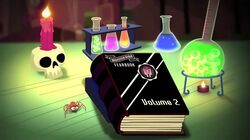 Volume 2 was released between February 8 and November 17, 2011. It's formula is drastically different from Volume 1's. Instead of webisodes in Volume 1 which last 1:47 minutes, Volume 2's webisodes take 3:32 minutes, almost twice as much. Moreso, the Volume 2 webisodes are heavy on continuity, featuring multiple storylines at once that span multiple webisodes. The special "Fright On!" was released during Volume 2's run and has since been suggested to take place between Volume 2 and Volume 3.
Volume 3
The date of Volume 3's start is debatable. In October and November of 2011, three webisodes of Volume 3 were released, but none on Monster High's official channel or announced on Facebook. Each of these was a webisode meant to promote a doll pack and they were released on the websites and YouTube channels of the stores that sold those packs. Since then, the first of the regular Volume 3 webisodes has been released on the Monster High channel and site on December 8, 2011. All the Volume 3 webisodes are 2:31 minutes long, less than the length of Volume 2's webisodes, and mark a return to the "gag-per-webisode" format. There is still a sense of continuity a la Volume 2, but less so. Four TV specials belong to Volume 3, but none of them has a distinguishable position relative to the webisodes.
Promotional webisodes
Normal webisodes
Defending your Lagoona (July 25th)
Night of a Thousand Dots (August 23rd)
Best Ghoulfriend (September 6th)
Hiss-toria (October 4th)
Tortoise and The Scare (November 15th)
Scare-born infection (November 29th)
Mauled (December 23rd)
A Perfect Match (December 23rd)
Specials
Other
References