To better cover the various aspects of the subject matter, this article has been split into one main page and several subpages. Select which one you wish to read.
Viperine Gorgon was trademarked on January 18, 2013 and her first doll came out in Late December, 2013. As of January 01, 2015, her doll number totals 1 and makes up 0.29% of the entire Monster High doll collection. Other merchandise of her is not yet available.
Dolls
Frights, Camera, Action! - Hauntlywood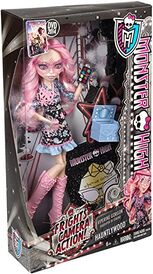 Doll: Viperine wears her thigh-length hair and six of her snakes loose with two loose spirals framing her face. The seventh snake is wrapped around her head to function as a headband, which is the only thing covering her forehead. Most of the hair is platinum blond; it's the spirals that have been dyed pink with a few strands of blond remaining in them. Her eye shadow is grey and her lipstick pink.
Clothes: The dress is short and has elbow-length sleeves. The top portion features a light pink and black floral-Paisley pattern against a powder blue background. The lower portion, which starts just below the rib cage, is mainly black and holds a cream, blue, and light pink print of gorgon heads, flowers, and curled-up snakes. There's a pink ribbon at the lower edge, from which a strip of blue ruffles continues.
Accessories: Viperine sports light pink boots that cover up to 3/4th of her crura. The wedges are scaled and feature two white fangs nose-side, with eyes located just above atop the nose. The boots' light pink shoelaces start at the nose and go all up to the upper edge, where they meet a design of writhing snakes. Viperine does not wear earrings, but she does wear all-translucent pink glasses. Two snakes form the upper eyewires and beads the lower ones, with the lenses being lightly shaped like an open mouth. There's a light pink, long, and beaded necklace around her neck with a design of numerous writhing snakes as the center piece. Viperine further comes equipped with a pink makeup brush, a black rectangular makeup palette containing eight colors, and a powder blue makeup box, which has two kissing snakes as handle, a pattern of scales all over, an abstract snake face on the front with two white-painted fangs, and a mirror on the inside of the lid.
Extras: This doll comes with a black doll stand and brush as well as a diary.
Notes: The stockphoto lacks the makeup brush and palette.
Ghoulebrities in Londoom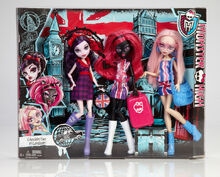 Doll: This Viperine has a hot pink lipstick and blue eye shadow. She wears her hair in a middle part but this time its full straight, with her original blond hair and pink highlights.
Clothes: This Viperine is wearing a loose top with blue, pink and red stripes going vertically. She also wears a simplistic mini skirt featuring the Union Jack.
Accessories: She is wearing two big hoop earrings shaped like both a skullette and a peace sign, her basic glasses and blue boots with snakes that resemble straps. Her bag is also in such texture and color.
Extras:
Notes:
Scare & Makeup

Doll:
Clothes:
Accessories:
Extras:
Notes:
Gallery
Ad blocker interference detected!
Wikia is a free-to-use site that makes money from advertising. We have a modified experience for viewers using ad blockers

Wikia is not accessible if you've made further modifications. Remove the custom ad blocker rule(s) and the page will load as expected.