| | |
| --- | --- |
| | To better cover the various aspects of the subject matter, this article has been split into one main page and several subpages. Select which one you wish to read. |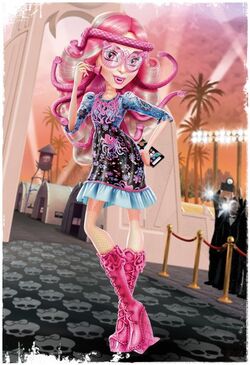 Viperine Gorgon is a gorgon from Barcelgroana. She will debut in "Frights, Camera, Action!".
Character
Personality
Viperine is a girly girl, which is why she's pursued a career as make-up artist.
Appearance
Viperine has pink and white hair and yellow skin.
Relationships
Family
She is the daughter of Stheno, whose sisters Medusa and Euryale are her aunts. Deuce Gorgon is Viperine's cousin.
Timeline