There are a number of video games released within the Monster High franchise.
Console games
Ghoul Spirit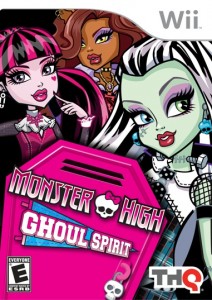 This semester, there's a new ghoul hitting the haunted halls of Monster High – you! In Monster High Ghoul Spirit, you'll create and customize your own scary-cute avatar, begin your dead-ucation and embrace your own freaky flaws. Build relationships and become BFFs with ghastly new classmates to achieve monstrous reputation and, ultimately, Scream Queen stardom at the Terror Under the Sea Dance. An open-ended social experience, Monster High Ghoul Spirit is the first time fans will get a chance to enroll firsthand and make frightfully fabulous friends. Game progression will unlock assignments and activities such as makeover madness and costume calamity on the perilous path to putrid popularity. Look out – this girl's inherited a talent from her very famous father! Original Storylines; Players will become immersed in seven original episodes that bring all of the brand's freaky flair to game consoles. Locker Customization; Students can apply stickers and gather trophies; change outfits, swap out purse inventory and view their report cards – all from a totally customizable locker. Expansive Campus; Players will experience environments including the Creepateria, Home Ick, Coffin Corridor, the Ghoul's Bathroom, Mad Science Laboratory, the Belfry, and many more. Explore a new immersive world featuring the signature Monster High aesthetic style, with full functionality of the Wii Remote and Nunchuk.
Skultimate Roller Maze
13 Wishes: The Official Game
On April 3, 2013, Little Orbit sent out a press release about their upcoming games. One of these is a new Monster High game:
From the brand that has become a worldwide phenomenon and is everywhere girls are today, Monster High™ looks forward to releasing a new video game based on one of their highly anticipated movies. The game allows fans to travel inside the monsterfied world of Monster High as your favorite ghoul and solve puzzles to influence alternate endings. The video game will be brought to Nintendo's Wii U™, Wii™, Nintendo 3DS™ and Nintendo DS™ systems in autumn 2013. 1[1]
New Ghoul in School
Welcome, new ghoul!
Come roam the halls of Monster High and get to know your new classmates. Join clubs, make friends and dress up in fierce fashions. But be aware, there's something strange going on at Monster High! Cleo's new amulet has been cursed by the spirit of Spookenhamen, and the student body is falling under his spell. Use your skills and savvy to help save the school and all your new classmates from the mummy's curse! Be Yourself. Be Unique. Be a Monster. Features:
Experience a ghoul's life for the first time on Xbox 360 and PS3.
Play through an all new story-driven adventure featuring over 40 of your favorite Monster High characters!
Create your own unique monster self – choose from dozens of skin tones, hair colors and styles, and tons of fierce outfits.
Shop and fill up your closet with outfits and accessories.
Build relationships with your new classmates and join clubs, like Fashion Club, Cooking Club and the Fearleading Squad. http://www.nataliezworld.com/2015/08/monster-high-reboots-ghoul-spirit-video.html
Web games
The below are all web games available on the Monster High website. Most are available in the Games section, but those listed in italics are available in the Catacombs section.
| | |
| --- | --- |
| Game | Release date |
| Monster Freakout [2] | July 11, 2010 |
| Make a Monster High Album & Activity Book [3] | July 12, 2010 |
| Bookmark Maker [4] | July 12, 2010 |
| Decorate Your Monster High Locker [5] | July 12, 2010 |
| Registration [6] | July 12, 2010 |
| Create your own Class Photo and Student ID card! [7] | July 12, 2010 |
| Froggie Dash [8] | September 12, 2010 |
| Dawn of the Dance [9] | October 25, 2010 |
| Pom-Pom Panic! [10] | October 31, 2010 |
| Clawdeen's Cram Fest! [11] | January 1, 2011 |
| Casketball Queen [12] | January 1, 2011 |
| Ghoul Juice [13] | January 14, 2011 |
| Monster Mail [14] | February 22, 2011 |
| Freaky Footwork [15] | March 7, 2011 |
| Scary Sun [16] | March 21, 2011. |
| Fear-A-Mid [17] | August 10, 2011 |
| Creepateria Food Fright [18] | October 5, 2011 |
| Skulltastic Survival [19] | November 1, 2011 |
| Scary-Sweet Memories [20] | February 12, 2012 |
| Driver's Dread! [21] | February 14, 2012 |
| Fintastic Rescue [22] | April 13, 2012 |
| Teen Scream Freaky-Fab Photo Shoot [23] | April 15, 2012 |
| Phantom Roller [24] | July 13, 2012 |
| Trick or Trance [25] | October 12, 2012 |
| Who's That Ghoul? [26] | March 13, 2014 |
| Secret Creepers Adventures [27] | April 03, 2014 |
Apps
Ghoul Box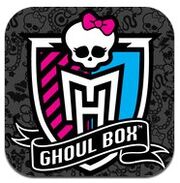 Monster High Ghoul Box was released on July 10, 2011. Download it for FREE from the iTunes App store.
The lockers at Monster High are full of mysteries, wonders, and scary-cool tools to creepify your un-life. Just touch a locker to find out what's inside!
SEND ENCRYPTED MESSAGES TO YOUR BEASTIES WITH MONSTER MESSAGER!

UNCOVER YOUR DESTINY WITH MONSTER HIGH M.A.S.H.!

GET YOUR ZOMBIE ON WITH ZOMBIE SPEAK!
UPLOAD KILLER TONES TO ITUNES!
VENTURE BEHIND THE SCREAMS FOR THE LATEST MONSTER HIGH NEWS!
FREAK OUT YOUR FRIENDS & FREAK UP YOUR MUSIC WITH SOUNDS CREEPY!
TAKE PHOTOS DOWN UNDER WITH THE LAGOONA CAM!!!
Sweet 1600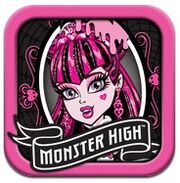 The App is FREE, see the iTunes App store to download.
It's Draculaura's Sweet 1600 Birthday Party, and you're invited!
This application is for iPod/iPhone users and it makes use of the keys you get with Monster High Sweet 1600 dolls. You choose the right character which matches your doll and place the key you have received by lining up the key to the holes and turning it clockwise.
However, people who have not been blessed with a doll can still enjoy this application by using their intelligence to pass a quiz to reveal the gate's access code. You can choose from four monsters (Clawdeen Wolf, Frankie Stein, Draculaura or Clawd Wolf) and then answer ten questions about them.
There are two main things that you can do, either download awesome wallpapers by unlocking the gates to 'Party Favours' or by taking a stroll on the Black Carpet which lets you customize your own photos!
Finders Creepers