To better cover the various aspects of the subject matter, this article has been split into one main page and several subpages. Select which one you wish to read.
Vandala Doubloons was trademarked on December 09, 2013 and her first doll came out in Mid November, 2014. As of January 01, 2015, her doll number totals 1 and makes up 0.29% of the entire Monster High doll collection. Other merchandise of her is not yet available.
Dolls
Haunted - Student Spirits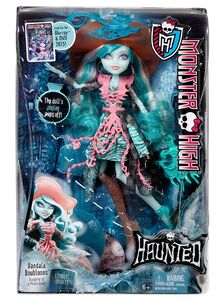 Doll: Vandala has soft green opaque skin to support her ghostly appearance. Her eye makeup consists of dark purple eyeshadow and light blue under the eye and upper eyelid. She has silver eyebrows and peach lips. Her eyes are a mix of orange and pink. She has platinum seafoam green and teal hair with straight-cut bangs.
Clothes: Her dress is seafoam green with wavy sea print.For sleeves, she has tulle sleeves with tinsel curlicue pattern embellishments. She adorns a scarf wrapped around her waist. Her dress has an assymetrical hem. She sports a sheer gray underskirt on her dress.
Accessories: She has a red floppy beach hat with a pirate ship piece on it. She is wearing epulets on her shoulders that are connected to a ribcage chest piece that connects to a belt. The belt has a octopus that is holding up chains with tiny charms. She has tentacle like hook earrings and wears a intricate bracelet on her wrist. She has an anchor shaped handbag with seaweed hanging from the bag like fringes. Her shoe is encrusted with beds and chains while she has a treasure box heel. Her peg leg is wooden as it has intricate details while the leg is supported by a gravity heel.



Extras: She has a diary with a ghost skullette comb. She has a ball and chain transparent stand.
Notes: Her peg leg pops-off
Gallery
Ad blocker interference detected!
Wikia is a free-to-use site that makes money from advertising. We have a modified experience for viewers using ad blockers

Wikia is not accessible if you've made further modifications. Remove the custom ad blocker rule(s) and the page will load as expected.