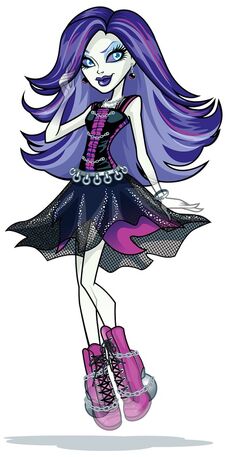 About me
Hello thanks for visiting my profile. What do you want to know? Well, I'm a recent fan of Monster High and all thanks to Ghoulia Yelps, I'm a fan of Zombie movies, if you haven't, watch all the movies from George A. Romero. And about my user name, I do believe in ghosts cause I've had personal experiences that I can't explain with logic. That's why I like and admire Spectra too.
Why I Like Monster High/Favorite Character
Ever since I was little liked monster stuff, horror movies and of course Halloween and Day of the Dead, I'm from Mexico by the way. It's good for a toy line to release a monster themed line of dolls, if you do a little research you can find that almost everything that has a horror and monster theme is really succesful.
My Favorite Character of course is Ghoulia Yelps, I have 5 versions of her. I also like to think the smells of the ghouls, Ghoulia of course smells like Strawberies, Spectra smells like Grapes, Frankie like Mint, Lagoona like Blueberries, Clawdeen like Chocolate, Abbey like coconut, Draculaura like roses.
I can't do a list of them but since i don't have other choice, with no special order the other characters that I like are:
Spectra
Abbey
Toralei, Purrsephone and Meowlody
Lagoona
Draculaura
Frankie
Operetta
Cleo.
And you can bet that new characters will be in the list.
If I Was a Monster Movie Character, I Would Be...
A zombie, as I said before I like everything related to them.