Snape headmaster? Snape in Dumbledore's Office? Merlin's Pants!

— 'Hermione Granger'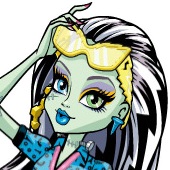 My Profile

IamFrankiestein:

I am a hyper, bubbly teenager and enjoy Harry Potter, The Hunger games and MONSTER HIGH!

Killer Style:

Checkered T's, Jeggings, Boots, Converse…TYpical clothes. I usually accessorise with hats and necklaces too

Freaky Flaw:

My Sensitivity and quick thinking. I can sometimes say things that other people don't understand and I sometimes take it the wrong way…:(

Favourite colour:

Black and white stripes!

Favourite food:

Bean casserole and lemon meringue pie

Biggest pet peeve:

People who judge on height, popularity and prettiness

Favourite activity:

Arts (singing, dancing, arts etc…)

Pet:

My fabulous cat Bourbon. He is lazy and has an obsession with food
Welome to the party!
Welcome to my lair of hyperness and awesomeness Freaky Fabulousness (bit of a mouthful...)Edit
My profile will decide your fate of friendship with me...So let's get started! (also read my side profile for more info)
want to know me better? Then read on!Edit
My Wikia name is Frankie
I live in the 'Wizarding world of harry Potter' more than reality...(I listen to the audio books 24/7)
I try to be as honest as humanily possible :)
I have a grade 8 recorder standard
I dance
I sing
I love reading and school 
I have a unique taste in fashion
I dislike bacon
I dislike Twilight
I LOVE MONSTER HIGH!
I am Frankie Stein
My Pet hatesEdit
I don't hate people who like these things, I just don't like the topic.Edit
Twilight
Twilight
Twilight
Twilight
Twilight
Twilight
Twilight
Twilight
Twilight
Bacon and mushrooms
Monster Miku Potter Clannad Wiki
So if you want to know me even better than this, start up a chat on my talk page!
Bye and one more thing....
"VOLTAGE!"
xxxFrankiexxx (talk) 07:31, April 13, 2013 (UTC)xxxFrankiexxxxxxFrankiexxx (talk) 07:31, April 13, 2013 (UTC)