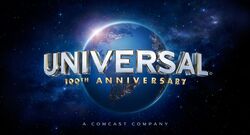 Universal Pictures is one of the world's major movie studios as well as the oldest USAian still in existence. It was founded in 1912 by Carl Laemmle, whose family lost the company in the '30s.
Throughout its existence, Universal has acquired an impressive library, and one of its most distinctive components is the Universal Horror collection. The movies belonging to the Universal Horror area were produced from 1923 to 1958, and throughout that time ensured a significant amount of Universal's profit. Most of the big titles of the Universal Horror collection were made from 1923 to 1936, Creature from the Black Lagoon being the big exception, and its for a great deal those movies that have shaped the modern basic monster premise, wherein Frankenstein monsters, vampires, werewolves, mummies, and fish monsters are the core entities. Universal Horror also had a great influence on the way these monsters are popularly imagined. For instance, the monster of Frankenstein from the novel and stage plays was abnormally tall, but the rest of his monstrous features varied per adaption. It was the 1931 Universal movie (posters) that introduced or solidified the large forehead, neck bolts, stitches, and green skin the creature is modernly thought to have.
Monster High's main cast is liberally inspired by the Universal Horror classics, with Frankie Stein, Draculaura, Clawdeen Wolf, Cleo de Nile, and Lagoona Blue making up the basic monster cast.
In June 3, 2010, The Wall Street Journal reported on the various ways Mattel intended to promote Monster High. One of these was a live-action movie musical, which would be co-produced with Universal Pictures and directed by Craig Zadan and Neil Meron. The report elaborated that the duo envisioned the product as "'Beetlejuice' meets 'Grease' meets 'The Addams Family' meets 'Edward Scissorhands'."[1]
No word has since been heard of the live-action movie musical. However, the upcoming TV special "Ghouls Rule" will have Mattel and Universal Pictures work together to market and distribute the DVDs.[2]
References
External links