To better cover the various aspects of the subject matter, this article has been split into one main page and several subpages. Select which one you wish to read.
Twyla was trademarked on July 08, 2013 and her first doll came out in Late May, 2013. As of January 01, 2016, her doll number totals 5 and makes up 1.18% of the entire Monster High doll collection. Other merchandise of her is not yet available.
Dolls
13 Wishes
| | |
| --- | --- |
| | |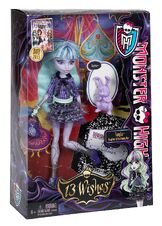 Doll: Her makeup is fading blue eye shadow and pastel pink lipstick. She has bangs and her hair is styled in gentle waves.
Clothes: Twyla wears an indigo blouse with a black collar and half sleeves that flares towards the end. The blouse has vertical black stripes with silhouettes of dust mites and dust particles along it, and the the bottom of the collar is adorned with a black bow. Her skirt has three tiers, and each layer comprises of a strip of black fabric with mint green designs identical to those on her legs that emulate swirling dust, hemmed with translucent purple tulle.
Accessories: Her high-heeled ankle boots are navy blue with green laces and black soles. The ends of the laces are dust mites, the heels are shaped like swirling dust, and the shoe has many stitches and buckles over it. She accessorises with a navy blue ball clasp purse with a black handle, moulded ornamental patterns, and a painted mint green dreamcatcher in the shape of a Skullette; a mint belt with a skullette buckle and a keyhole beneath it; a mint bracelet with a mini dreamcatcher charm on her right hand; three bracelets on her left hand, in alternating order of color, from pink to black to pink. Her earrings are shaped as a silver doorknob and keyhole.
Extras: The doll comes with a life-sized diary, a black brush and her pet dust bunny, Dustin, who is mauve with one black button eye and one mint green stitch eye.
Notes: There is nothing of note about this fashion pack's availability or stockphoto.
New Scaremester
| | |
| --- | --- |
| | |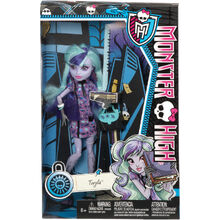 Doll: This Twyla is wearing bright, almost-neon, pink as well as her eyeshadow, which also features purple mascara in her lower lashes. Her hair is mostly pastel green, styled in bangs pulled to the side and a small ponytail to the side of her head, with the rest of the hair in curls. She has dark blue and purple thick strands of her spread through her hair.
Clothes: Twyla, ready for a new semester, is wearing a short pastel purple tight dress in a shiny material, short sleeves and a folded collar, as well as a strand of black ribbon, mimiquing a zipper, with a little bow ai the top. The dress also has a black pocket. The print in the lilac dress consists of blue and green shiny bugs, like spiders and fireflies.
Accessories: The doll comes with a pair of thick white bracelets as well as a green pearled one too. Her shoes are a classic mold, in a Mary Jane style with a antique theme, but the wedge has molded spiders and it has a strap. Her bag opens and it is black with molded bugs, and has a swirly handle. The part that opens is pastel green with a printed lady bug, bee and spider in dark blue.
Extras: This doll comes with a life-sized agenda, a basic stand and brush and a translucent purple trapperkeeper, with molded bugs.
Notes:
Coffin Bean
Doll: This Twyla has a darker palette than usual. Her hair is mostly blue-purple this time, with seafoam green in the back. Her hair is worn loose with a swoop of bangs in the front. For makeup she wears lavender and light blue eyeshadow and dark plum lipstick.
Clothes: Twyla wears a dark purple romper with a cobweb print. It has a square of aqua tulle near her collarbone, as well as a black ribbon tied around her neck. She wears blue Mary Jane style shoes.
Accessories: She wears a black belt with an aqua buckle and has two bracelets, one purple and the other aqua.
Extras: She comes with a purple mug of hot chocolate that features ghost-shaped marshmallows.
Notes:
Haunted - Getting Ghostly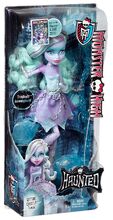 Doll: This Twyla has slightly translucent skin, having become a ghost. Her hair is styled in long waves and is mostly seafoam green, with a few light purple streaks in the front. She has a ghostly "mask" over her face done in teal, and her lips are a bright coral.
Clothes: She wears a seafoam colored dress with a cobweb print, and accented with light purple bits of tulle on the collar and skirt. Her shoes are cast in translucent aqua-green and feature bed-shaped heels.
Accessories: She wears a transparent blue bracelet filled with "boogie sand" that transforms her into a ghost, as well as a belt made from silver chains. She also wears a gray headband with bow made of chains and molded eyes.
Extras: She comes with a transparent blue brush and doll stand made specifically for the Haunted line.
Notes: The stock photo for this doll shows her shoes to have ankle cuffs. These are not present on the final doll.
Freak Du Chic - Noir
| | |
| --- | --- |
| | |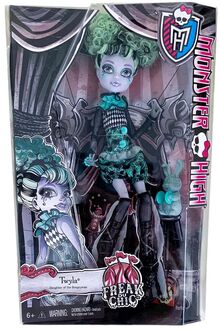 Doll: This Twyla has a greyer and more shadowy hue in her skin, and her lipstick is a nude grey color. With grey eyeshadow and teal in the crease and spread around her cheeks, Twyla is also earing a circu inspired facepaint around the eyes, with three swirls dropping down. Her eyebrows are dark grey. Her hair is the classical pastel green color but this time with various black streaks, pulled in a top bun with tight curls styled in a afro puff. Her curled bangs are pulled sideways.
Clothes: Twyla is wearing a highly circus inspired attire, consisting of a romper with long tulle sleeves. The main fabric showcases a pattern of black spiders in a blue background and the fabric around the waist consists of a black and white harlequin patterm. Around the neck she has a finished tulle elizabethan collar inspired neckwrap, as well as a single strand of white ruffles around the waist. The top also includes two fluffy bright blue pon-pons.
Accessories: This Twyla is wearing a pair of black sheer legwarmers and from the top of these flow a strand of sheer black and white stripper thorned material. Since she is a stilt-walker, her black shoes have long shadow dust looking stilts. She additionally comes with a single teal pearled bracelet.
Extras: This Twyla includes a black stand and her pet, Dustin, in a greyer hue and holding a pair of teal cymbals, to play.
Notes:
Gallery