Sweet 1600 (doll assortment)
Comments

0
920pages on
this wiki
The Sweet 1600 assortment revolves around Draculaura's 1600th birthday. The dolls of the assortment are Draculaura, Frankie Stein, Clawdeen Wolf, Clawd Wolf and C.A. Cupid. An item-only pack, the Roadster, representing Draculaura's new car, is also part of the Sweet 1600 line. The regular dolls of the line were released in Late November and the Roadster in Early December of 2011. C.A. Cupid was released as a Walmart-exclusive doll in Late December of the same year. The three regular female dolls of the set were re-released in Late November, 2013 with fewer accessories as Walmart exclusives.
Name
Sweet 1600 was trademarked on August 3, 2011.
Assortment relations
Sweet 1600 is a party-themed line, succeeding Dawn of the Dance, but preceding Dot Dead Gorgeous and Ghouls Rule.
The Roadster was re-released in 2012 as a JCPenney exclusive. That release came with a Draculaura doll in a dress made of the same fabric as her Sweet 1600 dress. A few other Sweet 1600 accessories have also been reused for other lines.
Doll logs
Each doll except for C.A. Cupid comes with a key and code to unlock exclusive content on respectively in the Sweet 1600 app and on the Monster High website. The exclusive content on the website contains diaries, scripts and Q & A.
C.A. Cupid comes with her profile included in the box and a short introduction written on the back of it.
Fiction
Draculaura's Sweet 1600 has been worked towards since the start of the franchise. Ignoring "Party Planners", which has no association with Sweet 1600, Draculaura's birthday occurred in "Why Do Ghouls Fall in Love?". The outfits appearance, though, were limited to the final scenes.
Clawd's Sweet 1600 outfit showed up again in the Volume 3 webisode "Boo Year's Eve". His and Draculaura's clothes also appeared in the web game Scary-Sweet Memories, and Draculaura's again in Driver's Dread!.
Notes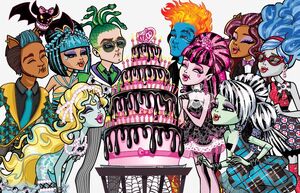 C.A. Cupid was scheduled for a Late January release, so that the three exclusives of early 2012 would be released systematically over the course of three months.
There have been rumors circulating the release of a second series of Sweet 1600 dolls following the discovery of a piece of artwork depicting the original four Sweet 1600 characters alongside Cleo, Deuce, Lagoona, Ghoulia and Holt, all dressed in style. However, Deuce is in his Dawn of the Dance clothes and Cleo in her Ghouls Rule clothes, and none of the outfits bar the original four appear in "Why Do Ghouls Fall in Love?". Lagoona's, Holt's, and Ghoulia's outfits so far have not been shown in the cartoon or released. It is thus unclear what they're meant to represent.
The three Black Friday dolls erroneously went up for sale on the Walmart website in September of 2013. Though the offer was swiftly taken down, the dolls were delivered to those who ordered them.
Gallery