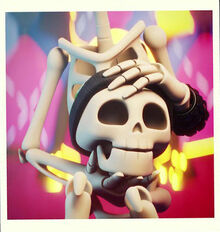 Skelly is a skeleton that was introduced in Welcome to Monster High.
Character
Personality
Not much is known about Skelly but he appears to be friendly towards other monsters.
Appearance
He is a basic skeleton and generally does not wear clothes. However, he is seen wearing a black beanie and a studded arm cuff.
Relationships
Family
He is brothers with Bonesy.
Friends
Skelly is commonly seen hanging out with Bonesy, but appears to hang out with other students of Monster High.
Ad blocker interference detected!
Wikia is a free-to-use site that makes money from advertising. We have a modified experience for viewers using ad blockers

Wikia is not accessible if you've made further modifications. Remove the custom ad blocker rule(s) and the page will load as expected.