To better cover the various aspects of the subject matter, this article has been split into one main page and several subpages. Select which one you wish to read.
Sirena Von Boo was trademarked on November 19, 2013 and her first doll came out in Late May, 2014. As of January 01, 2015, her doll number totals 1 and makes up 0.29% of the entire Monster High doll collection. Other merchandise of her is not yet available.
Dolls
Freaky Fusion - Hybrids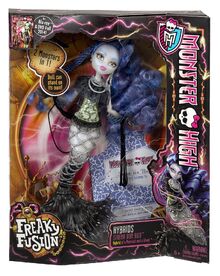 Doll: Sirena has her lightly curled hair, which is colored blue and purple, tied to the left in both a high ponytail and a low one. She has three twists hanging from her right and her bangs are combed up high to the left. Her eyeshadow is both yellow and faint salmon, while her lipstick is orchid.
Clothes: Sirena's one item of clothing is a strapless top in the colors cream and chartreuse with a print in black of sets of tentacles. Adding to this, she also wears a shoulder belts that goes over her right shoulder and under her left. This belt is made from a lower layer of black fishnet with a blue shine and an upper layer of black sheer.
Accessories: The earrings are both silver, but mismatched. In her right ear she has a silver pearl stud and her left ear holds up two looped silver chains. Her necklace is made from three silver chains, and around both her wrists are black bands with four looped strings each that reach all the way to the ground. Her tail is encased in a fishnet structure of silver chains, which start off as a black studded thin belt at the top.
Extras: This doll comes with a yellow brush as well as a diary. The doll can stand on its own, so there's no stand included.
Notes: The stockphoto has the earrings switched around.
Gallery