To better cover the various aspects of the subject matter, this article has been split into one main page and several subpages. Select which one you wish to read.
Scarah Screams was trademarked on July 7, 2011 and her first doll came out on July 12, 2012. As of January 01, 2015, her doll number totals 4 and makes up 1.18% of the entire Monster High doll collection. Other merchandise of her is not yet available.
Dolls
San Diego Comic-Con International dolls
Doll: Her hair is black, in a '60's haircut, with the ends of her hair curled upwards, and bangs for her fringe.
Clothes: Scarah wears a forest green turtle neck top, along with an olive green leather textured skirt, and a brown belt.
Accessories: Her shoes are dark teal high heels. She accessorizes with a green headband.
Extras: She comes with a black doll stand and a diary.
Notes: The doll is only available in a 2-pack with Hoodude Voodoo, which is exclusive to San Diego Comic-Con International 2012.
I Heart Fashion
Doll: Scarah's hair is pulled back into a simple mod style with sideswept bangs and held back partially by her glasses. She wears simple silver eyeshadow around her eyes and light pink lipstick.
Clothes: Scarah comes with 3 outfits, all inspired by the Mod fashions from the 1960's.
Outfit 1 - On Doll: Scarah sports a long sleeved PVC Jacket with a green Leather belt with a skull buckle. Under the Jacket she wears a pink, green and black Skullette patterned shirt and a simple pair of black Daisy Duke like shorts.
Outfit 2: A shimmery emerald colour Halter dress.
Outfit 3: A short sleeeved babydoll dress with pink sleeves, backing and center trim. The sides feature two distinct patterns, left being a black, green and pink Safety pin pattern and the right is a simple grungy black pattern. This outfit comes with a set of black and skintone matching mint leggings that give the illusion of being ripped when worn on Scarah.
Accessories: This doll comes with 3 pairs of shoes, 2 necklaces, 5 bracelets and one purse.
Accessories on Scarah: Scarah wears a pair of retro styled Black and White sunglasses on her head. She has a black Recast of Lagoona's Classroom Necklace. She has a pink and black striped bracelet on her right arm and a set of olive green and white chunky bangles on her left arm. she wears a pair of Go-Go dancer inspired boots with a silver zipper and silver heel and sole. She holds a green and white recast of Frankie's Basic purse.
Accessories Included: Scarah comes with an extra chain style necklace, a white belt with a black skullette buckle and two extra pairs of heels. The first heels are a silver recast of her SDCC heels and the second is a dark green recast of Draculaura's Scaris heels.
Extras: This doll features a stand and a brush. Plastic inserts inside the dresses can also count in helping display the other outfits she wears.
Notes: Scarah and all other I Heart Fashion dolls are Toys 'R' Us exclusive.
Scarah's art Doesn't show her bracelets, sunglasses or purse and shows the belt on the Halter dress instead of the babydoll dress.
We Are Monster High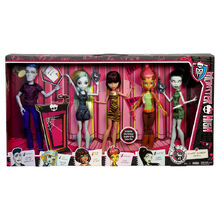 Doll: This Scarah's hair is all black, with a high ponytail. She has pink eyeshadow and green lipstick.
Clothes: She wears a short tube dress in green, with a pattern that is screaming faces, with open mouths, eyes and noses.
Accessories: She wears a white belt with a buckle and pink heels with a strap and buckle around her legs.
Extras: This doll features no extras.
Notes: She is only available in a 5-pack with Lagoona Blue, Slomo Mortavich, Cleo de Nile and Gilda Goldstag.
Freaky Fusion - Fusion-Inspired Ghouls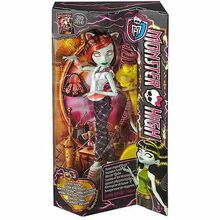 Doll: Scarah's hair is inspired by Toralei's, in a short bob with an orange strand of hair, that also has stripes. She wears simple orange eyeshadow and deep green lips. She is also wearing fake claws.
Clothes: This Scarah wears a white leather sleeveless jacket, with a line of silver seam, and a white fold on the right and an orange, silver and black plaided fold on the left. She's also wearing what seems to be a chees pattern pair of trousers, but the lines of the squares are pins. In several places the trousers also have scrached markings, revealing a whole different patten: the same pattern of the left fold in her jacket.
Accessories: She wears a headband with fake werecat ears, in pale green like her skintone but with a neon orange in the inner ear, a belt with a fake pale green tail, an orange bracelet with studs and bell, a purse with cat ears and eyes in black and tree orange stripes acroos it, and a pair of white short boots, with neon orange laces.
Extras: This dolls comes with no extras.
Notes:
Ghoul Fair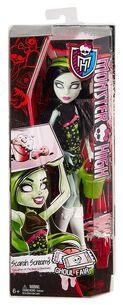 Doll: This Scarah has straight loose hair, parted in the side, and she has a lime green streak in her long bangs, which fall on her face. She has light pink lipstick and grey eyeshadow, as well as winged eyeliner.
Clothes: Scarah wears a short dress, with a high collar. The dress is black but it has two different patterns, separated by a pink angled strip, sewn in the dress. The top part is plain black and the lower part has a pattern which consists of goo-ey stains.
Accessories: She is wearing gogo platform boots, where the heel and platform are translucent green and the heel is drippy goo, as if the shoe is oozing to the floor. In the top part of the boots there is also a relief of goo droplets. She also comes with a translucent green bucket, with a hand and goo paterns.
Extras: She does not come with any extras.
Notes:
Notes
Gallery
Ad blocker interference detected!
Wikia is a free-to-use site that makes money from advertising. We have a modified experience for viewers using ad blockers

Wikia is not accessible if you've made further modifications. Remove the custom ad blocker rule(s) and the page will load as expected.