| | |
| --- | --- |
| | To better cover the various aspects of the subject matter, this article has been split into one main page and several subpages. Select which one you wish to read. |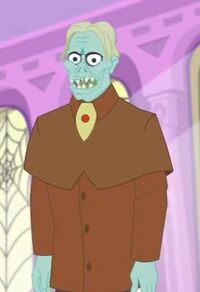 Mr. Rotter is an undead and presumably from Romania, who teaches Dead Languages at Monster High. He was introduced in the webisode "Idol Threat". In his first appearance, he was voiced by Yuri Lowenthal. Currently, he is voiced by Cam Clarke.
Character
Personality
Mr. Rotter believes in order and has little patience for students that try to cause chaos. He is, however, not a strict teacher and enjoys to spark enthusiasm for both his classes and the other ones in the students. This means that sometimes Rotter fails to understand when students are not enthusiastic about some of the classes. He is known for never giving 'A's.
Appearance
Rotter has grey-to-green skin and sandy hair. He is usually dressed in a brown coat.
Classic Monster
Mr. Rotter is an unspecified type of undead, which coincides with his occupation of teaching Dead Languages as he was presumably alive when they were. He appears to be speaking in a Romanian accent, playing on the Bram Stoker-inspired idea of Romania as the nation where the night is ruled by the undead. His physical appearance closely matches Lon Chaney's portrayal of "The Phantom of the Opera" in the 1925 silent film.
Timeline