Ricky[1] is a 2011-introduced and cartoon-only character. He is a blue humanoid gorilla whose feet, hands and head are encased in blocks of ice and a student at Monster High.
Personality
Ricky appears to be a good natured guy who doesn't mind an occasional challenge. He might favor hanging out in cold places.
Appearances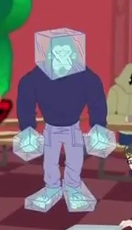 Ricky started out as a backgrounder when he debuted mid-Volume 2. In this capacity, he appears in "Fear Pressure", "Daydream of the Dead", "Nefera Again", "Hyde Your Heart", "Fright On!", "Why Do Ghouls Fall in Love?", "Creepfast Club", and "I Know What You Did Last Fright".
Volume 2
Ricky has lunch. Fear Pressure
Volume 3
In "No Place Like Nome", Ricky hung out hidden in the school's freezer. Abbey Bominable knew this and went to him to challenge him for a game of armwrestling. Ricky accepted. He was one of the victims of Hoodude in "Undo the Voodoo" seen in the classroom, some of the ice on his hands and feet are melted slightly and his clothes were partially ripped.
Notes
In the 3D TV specials, Ricky's design sports his head on a generic boy body.
References
↑ Erin Fitzgerald, Abbey Bominable's voice actor, has confirmed the script read "Ricky" on her Facebook acount.
Ad blocker interference detected!
Wikia is a free-to-use site that makes money from advertising. We have a modified experience for viewers using ad blockers

Wikia is not accessible if you've made further modifications. Remove the custom ad blocker rule(s) and the page will load as expected.