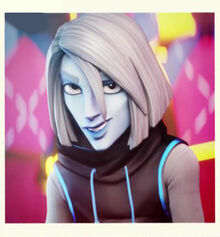 Raythe is a 2016-introduced character, so far seen in Welcome to Monster High and Electrified. His monster type and heritage are unknown.
Portrayers
Raythe is voiced by Travis Dresden.
Character
Appearance
Raythe has blue skin, fangs, and white-grey hair in an angular bob that covers half of his face. He wears a long torn dark grey pullover hoodie with sky blue accents over a grey shirt, klein blue pants that fade into deep purple, blue high top sneakers with three spiked bands on each, and a black and grey glove on his right hand with a sky blue bracelet.
Relationships
Friends
He's been seen hanging out with the skeleton boys such as Skelly and Bonesy, and also Deuce, as in, Deuce Gorgon.
Band
In Electrified, he forms a music band with Skelly, Bonesy, Deuce, Venus, Silvi and Woolee.
Romance
He seems to have a semi-romantic interest in Clawdeen.
Gallery
Ad blocker interference detected!
Wikia is a free-to-use site that makes money from advertising. We have a modified experience for viewers using ad blockers

Wikia is not accessible if you've made further modifications. Remove the custom ad blocker rule(s) and the page will load as expected.