To better cover the various aspects of the subject matter, this article has been split into one main page and several subpages. Select which one you wish to read.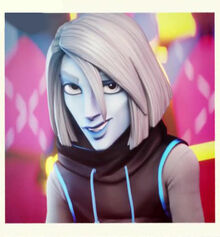 Rayth is a 2016-introduced and fiction-only character. Given his name and appearance, he is most likely a wraith. He attends Monster High, being one of its early students. Among the friends he's made, he's closest to Deuce Gorgon and has developed a mutual crush on Clawdeen Wolf.
This article or section is a stub. You can help the Monster High Wiki by expanding it.
Portrayers
Raythe is voiced by Travis Dresden.
Character
Personality
Rayth is easygoing though a touch zealous and clumsy with words. He loves music.
Appearance
Rayth has grey skin that at times appears blue, fangs, and chin-length grey hair that at time appears white. His clothes are a mixture of alternative casual and burial shroud-like tattered fabric.
Relationships
Friends
His preferred company are Skelly, Bonesy, and Deuce. He formed a band with them a few months after Monster High was founded, to which Venus, Silvi, and Woolee were also accepted. Electrified
Romance
He is interested in Clawdeen Wolf, who answers the affection. They didn't go off on the greatest of starts, because in seeking to compliment her, Rayth called her art "sick". An ambiguous word choice that Clawdeen took negatively until Draculaura explained the misunderstanding. While Clawdeen does not actively go after Rayth the way he does her, she welcomes his attempts at courting her. Welcome to Monster High
Timeline
Ad blocker interference detected!
Wikia is a free-to-use site that makes money from advertising. We have a modified experience for viewers using ad blockers

Wikia is not accessible if you've made further modifications. Remove the custom ad blocker rule(s) and the page will load as expected.