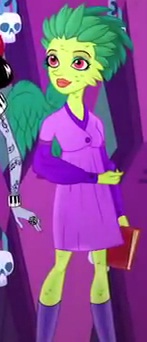 Quill Talyntino is a 2011 backgrounder-turned-character in 2014. She is the daughter of a harpy.
Character
Personality
Quill's active screentime or mention in fiction is very little, however she is shy and soft spoken, always stuttering like she's afraid of saying something wrong. She is also a bit of a hoarder, as she collects shiny things, a collection she is very self concious about, despite her friends supporting her with everything.
Appearance
Quill has neon-green feathers covering most of her body, but the head feathers and wings are dark green. She has red eyes and a pointy nose.
Cartoon
Quill appears in "Falling Spirits", "Fatal Error", "Fear Pressure" and "Hyde and Shriek", "Nefera Again", "Frost Friends", "Monster Mashionals Part 1", "Fright On!", "Kind: The Shockumentary", "Super Fan", "Dodgeskull", "Abyss Adventure", "Unearthed Day"," Decomposition Class" and "Creepfast Club". She is a background character for the most part.
Timeline
Notes
Ad blocker interference detected!
Wikia is a free-to-use site that makes money from advertising. We have a modified experience for viewers using ad blockers

Wikia is not accessible if you've made further modifications. Remove the custom ad blocker rule(s) and the page will load as expected.