To better cover the various aspects of the subject matter, this article has been split into one main page and several subpages. Select which one you wish to read.
Purrsephone was trademarked on December 03, 2010 and her first doll came out in Late February, 2012. As of January 01, 2015, her doll number totals 3 and makes up 0.88% of the entire Monster High doll collection. Few other merchandise of her is available.
Dolls
Campus Stroll
| | |
| --- | --- |
| | |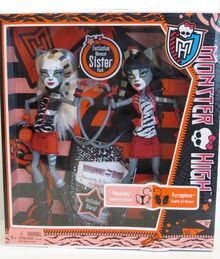 Purrsephone wears a sleeveless, tiger print shirt in horizontal white and black. She combines this with a crimson skirt and a red, sleeveless jacket. The jacket features a high collar, silver lining, six diagonal silver stripes at the top and one black horizontal stripe decorated with silver studs at the bottom. On her right hand, she wears an orange glove, and on her left arm she wears a studded black and crimson bracelet. On her left wrist, she has a studded crimson bracelet. Her shoes are black boots reaching almost to her knees. They feature crimson wedge heels, bootlaces over the entire length, buckles at the top, and open toes.
The doll comes with a crimson, ball of yarn-shaped purse, and one diary which she shares with her sister.
Purrsephone's doll is only available in a 2-pack with Meowlody. They lack a brush and stand, and are the only dolls of the 'Campus Stroll' line of which the stockphoto doesn't suggest otherwise. The dolls were also only sold in a 2-pack with each other.
Go Monster High Team!!!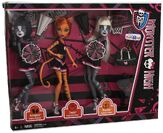 Doll:
Clothes:
Accessories:
Extras:
Notes: The doll is only available in a 3-pack with Toralei Stripe and Purrsephone, which is exclusive to Toys"R"Us.
Zombie Shake

Doll:
Clothes:
Accessories:
Extras:
Notes:
Wheelin' Werecats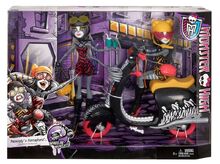 Doll:
Clothes:
Accessories:
Extras:
Notes:
Gallery
Ad blocker interference detected!
Wikia is a free-to-use site that makes money from advertising. We have a modified experience for viewers using ad blockers

Wikia is not accessible if you've made further modifications. Remove the custom ad blocker rule(s) and the page will load as expected.