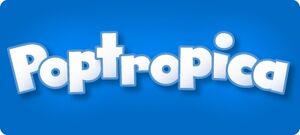 Poptropica is an online role-playing game targeted to a demographic of people aged 6 to 15 and owned by Pearson PLC. It was launched in September 2007 and is primarily free, but also offers paid-for membership advantages. Poptropica offers a world divided in islands. Each island has its own theme and quest to complete. Users can acquire a number of items to customize their avatar with through these quests and by obtaining in-game money to spend at the shops. Membership's advantages include exclusive access to certain outfits and access to new islands four weeks earlier than non-paying users.
Poptropica creates a lot of content itself, but sometimes also hires other companies to create content for them. One such company is Treefox Cartoons.
Mattel partnered with Poptropica in March of 2010 to promote Hot Wheels. Monster High promotions were added to the partnership on June 8, 2010. All promotions revolve around obtaining outfits and accessories for the avatar characters by participating in events and winning games.
Events
Gallery
External links