To better cover the various aspects of the subject matter, this article has been split into one main page and several subpages. Select which one you wish to read.
Playsets
"Floating" Bed
Big pieces:
Small pieces:
Notes:
Shower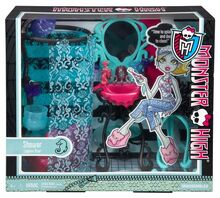 Big pieces:
Small pieces:
Notes:
Die-ner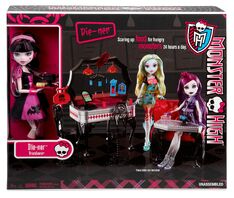 Big pieces:
Small pieces:
Notes: There are two versions of the Die-ner playset. The first release contains only a Draculaura doll, but the second both a Draculaura and an Operetta doll. The second release of the Die-ner is exclusive to Walmart.
Desert Frights Oasis
Big pieces:
Small pieces:
Notes: The Desert Frights Oasis playset comes with a Cleo de Nile doll.
Party Lounge
Big pieces:
Small pieces:
Notes: The Party Lounge playset comes with a Spectra Vondergeist doll. The party lounge can be connected to an iPod or any MP3 with an auxiliary imput to allow for music to play through the speakers. In order to use that functionality, 3 AA Batteries, not included with the set are required.
Jewelry Box Coffin
The Jewelry Box Coffin is a black coffin with pink stylized heart, swirl, and skullette decorations and pink handles. Inside are a pink bow-shaped pillow with white lace, a blanket partially white with pink hearts and partially pink with black diagonal lines, and a white curtain with pink hearts. There's a white heart-shaped tray that can be slid onto the right side of the coffin and the inside of the lid features a pop-down TV set which displays the weather channel. On one side of the coffin's lid is a holder from which Count Fabulous can hang. The coffin's lid itself can open to reveal space to store jewels as well as the accesories that come with the playset.
Dressing Room

Big pieces:
Small pieces:
Notes:
Premiere Party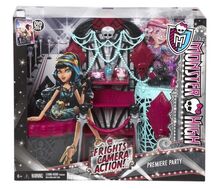 Big pieces:
Small pieces:
Notes:
Home Ick Classroom

Big pieces:
Small pieces:
Notes:
Art Class Studio

Big pieces:
Small pieces:
Notes:
Crypt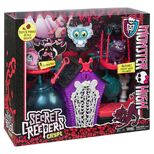 Big pieces: The Secret Creepers Crypt is a playset compatible with the Secret Creepers and Secret Critters toys as well as the dolls. It is meant to be a clubhouse of sorts for the pets, and like the pet-themed lines is designed around the idea of protecting secrets. It comes with a Crescent toy that makes loud cat noises when it detects movement.
Small pieces:
Notes:
Fiction