To better cover the various aspects of the subject matter, this article has been split into one main page and several subpages. Select which one you wish to read.
Operetta was trademarked on October 23, 2007, which was eventually abandoned and the name re-trademarked on November 17, 2011. Her first doll came out in Mid January, 2012. As of January 01, 2015, her doll number totals 13 and makes up 3.82 % of the entire Monster High doll collection. Few other merchandise of her is available.
Dolls
Campus Stroll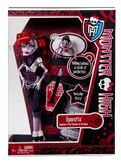 Operetta wears a purple and black houndstooth sleeveless blouse with white buttons down the front. Over the blouse she wears a short white jacket with black spiderweb patterns around the arms and on the back, and short, puffy sleeves ending in keyboard print. The blouse also features a skullette button. She sports jeans that are rolled up to below her knees and feature red lining. Her belt is white with black musical notes print, a spiderweb-style buckle, and three black chains with musical note-shaped charms haning from it. Operetta's shoes are black and white with white shoelaces, a spiderweb pattern, and treble clef shaped black heels. She wears a white bracelet with a keyboard print on her right arm and a black dice ring on her right hand. Her earrings are different from each other; her left earring is the six-dotted side of a black die and her right earring is the five-dotted side of a white die on a string. Around her left eye she sports a black, translucent mask in the shape of a heart-themed musical note.
The doll comes with a red, black and silver guitar case with white spider web patterns, a Memphis "Daddy O" Longlegs figurine, a real-life sized black brush, a black doll stand and a diary.
Operetta's stockphoto shows her with a purple brush, implying she comes with a purple doll stand. The doll has never been put on the market with those. Also, her stockphoto erroneously shows a set of bracelets that actually belong to Howleen Wolf's 'Campus Stroll' outfit.
Maul Session

Operetta's fashion pack consists of a top, a skirt, a belt, a red and black bag with a red spiderweb on the front, shoes and red spiderweb detailing. The top is black with purple lace detail and short stripy black and white straps. A long white skirt with black music notes is worn with the top. There is a red spiderweb on her right strap, two others form a sort of belt. Operetta`s shoes have a mix between the music note detail and the stripy detail. The sunglasses are black with red spiderweb detailing on the sides. Her bag is also red and black and it has the Monster High skullette logo, it is designed to look like an old vinyl record.
Skultimate Roller Maze

Operetta wears a white dress with purple, neon green and yellow records. Her dress has a high black collar which leads down to the belt which is another record, her roller skates are white with purple at the bottom and have red and green wheels, her knee pads are black and her helmet is black with music note patterns on it. Her hair is pulled back into a ponytail with green highlights along with a neon green stand.
Dot Dead Gorgeous
| | |
| --- | --- |
| | |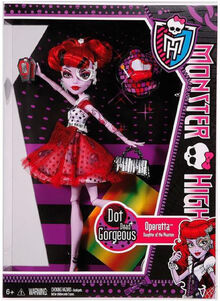 Operetta wears a white full-skirted sheath dress with black polkadots and the skirt has another layer made of chiffon fabric that is red and has a black disc pattern on it and has wide red straps with black polkadots. She also wears a belt that has a piano-design and her shoes are red and black wedges with dice on the straps and spiders clinging to the backs. Her accesories include a layered pearl necklace with three black music note charms hanging from it as well as a white spiderweb charm in the middle, an earring that is supposed to be a silver spiderweb, her signature white heart-shaped mask only this time part of it is in the form of a spiderweb and is connected to a another earring that is a white bow with a pearl in the middle, a red iCoffin, a red coffin-shaped makeup pallet, and a piano-patterned purse. The doll comes with a silver brush, a silver stand, and a picture. Her bangs are rolled up and the rest of her hair is curled and held back with a red bow covered with black dots and has a skullette in the middle. One of her arms is clean while the other is tattoed with purple and red swirls and two red treble clefs as always. Her lips are deep red and she keeps her smoky eyes.
Killer Style II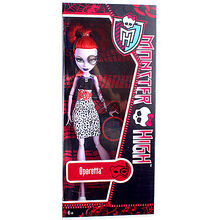 Doll: This version of Opretta sports her signature black and hot rod red hair slicked back into a curled up ponytail
She sports simple shimmery gray eyeshadow and deep purple lipstick.
Clothes: The clothing featured on this doll was originally part of the Maul Session Fashion Pack, but with minor improvements. The Red spiderweb is no longer permanently attached to the top, and can be taken on and off without problems. Other than that, her clothing wasn't changed.
Accessories: Opretta's purse has been modified, and doesn't feature the Skullete in the center of the bag, like the original. Other notable changes include the trim around the opening of the bag being changed from black to Red.
Opretta's shoes have also been modified from this pack. The heel is no longer painted with black stripes, and the trim on the back of the heel is now red instead of black.
Instead of the sunglasses that came with the original fashion pack, She comes with a clear black recast of her Dot Dead Gorgeous mask
Other notable changes from her clothing is that the Spiderweb pin on her top is removeable and can be considered an accessory.
The only other thing she comes with that was unchanged was her red spiderweb belt.
Extras:
Notes: Opretta, along with Clawdeen, were Kohls exclusive re-releases and improvements of their respective Maul Session fashion packs that included the doll in their fashions, rather than just the fashions by itself.
Dance Class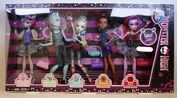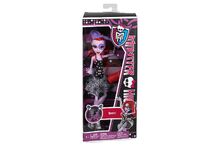 Operetta wears a black leotard with patterns of white dice with red dots on the fabric. Her v-neck leotard is secured by two red ribbons as shoulder straps. Her swing dance skirt is opaque white with black spider web designs. Her shoes are black toed lace-ups with piano keys on the heels. Her accessories include a red duffle bag with record discs at the sides, a musical note chain for a handle, and musical notes and spider web details on the body; a pearl-rimmed, heart-shaped mask which is amethyst purple and attached to a spider earring by outward-stretching spider webs. Her hair is pulled back by a purple and white gingham ribbon. She has smoky eyeshadow and bright red lipstick. The artwork never contained a ribbon.
My Wardrobe and I
This fashion pack comes with two and a half outfits for Operetta. The first outfit is a white dress with a purple spider web and music-note pattern. The second outfit consists of a red halter top with a music note and heart patterned collar and a black pencil skirt with white, dotted music lines on it. A purple stretch knit vest with a red heart-shaped curlicue on the left is included for both outfits. Accessories include a red dice belt, a bleeding heart mask, heart/music note hybrid earrings, and a purple ball clasp purse with piano keys for a strap and four dots on the front. The red spider web shoes have white soles and dice for heels.
Picture Day
Doll: Operetta's black and hot rod red hair starts up curled off into a victory roll then gives way to a black streaked ponytail that gives the appearance of being tied off with some hair.
Her makeup is a light red and pink eyeshadow with dark red lipstick.
Clothes: Operetta sports a Purple and white Letterman jacket over a red music note patterned dress with a black removable corset.
Her dress is a sweetheart neckline that is red with black music note patterns. it's held up by clear plastic straps. The dress is trimmed out with a sheer purple frill around it and features a black polkadotted sheer purple overlay under the bodice.
Her corset is black with white laces and is removable from her dress
Accessories: Variant: Operetta's Mask is a black recast of her Dot Dead Goregous mask. Released from April to Early October. Correct: Her Mask is a spiderweb mask with red drippings down the side. Available Late october onward.
Both: Operetta comes with Removeable black fishnet stockings, and black and white boots with red backing and black buttons.
Her other earring is a dangling set of records
She includes a red and black heart shaped purse with a slight drip to it, and comes with a pink folder.
Extras: She includes a brush, stand and a Fearbook.
Notes: Initial shipments of Operetta are considered Variants. A manufacturing error caused issues with the original mask not fitting her. Mattel corrected the error by including a Black version of her Dot Dead Goregous mask, while they worked on fixing the issue. Initial shipments with the incorrect mask were out in April and the correction wasn't out until Late October.
Playset: Die-ner
Doll: Operetta has simple silver eyeshadow at her crease and browbone while she has dark red lips. Her red and black streaked hair is slicked back. She has an red opera masked with a heart shape frame connected to an earring. On the other ear, she wears a red spiderweb earring.
Clothes: Her clothes consist of of tied scarf around her neck and an off shoulder top with a skullette-designed checkered print. At the dress, she wears a tight knee-length skirt with flared bottom. The is the same print from her top on the bottom skirt.
Accessories: She wears a piano key red belt with red and black laced-up wedges.
Extras: She comes with Draculaura in the Die-ner playset. She does not include a stand or brush.
Notes: The Die-ner playset that includes Operetta and Draculaura is only exclusively sold at Walmart.
Frights, Camera, Action! - Hauntlywood
| | |
| --- | --- |
| | |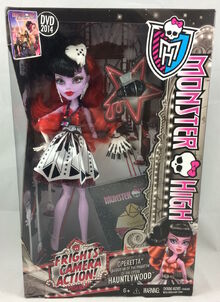 Doll: Operetta's got both red and black hair, which is kept apart. The red hair is of medium length and hangs down her back loose, while the black hair covers the scalp and is tied into a ponytail to the right. She has straight-cut bangs, grey eyeshadow, and red lipstick. Additionally, her hands and forearms sport molded-on gloves: a white one on the right and a black one on the left.
Clothes: The doll wears a knee-length dress with a red top held up by black straps. The upper edge of the top holds a strip of red sheer ruffles. A broad black strip with sections of piano key print is wrapped around her middle, from which an upper skirt with warped piano key print flows. Underneath is another skirt made of red sheer with a dripping music sheet print in black.
Accessories: Her open shoes are all-black with heels made out of five stacked-up dice. There's a single strap going over the toes, which just like the heel cup features spiderweb decoration. Atop each bridge is a single bow. The mask covering her left eye is a veil of black fishnet hanging from a headpiece in the shape of a large, white, dripping heart with a die's five side carved into it and a black sheer bow attached to the back. Her earrings start with white studs modeled like halved spiderwebs and from them hangs a drop of piano keys each. A black V.I.M. badge hangs from her neck and there's a bracelete of piano keys on her left arm. Operetta further comes equipped with a black coffin-shaped camera with a silver spiderweb-covered flasher and a fan-shaped piano key purse with a black beaded strap and strings of black beads hanging from every other key.
Extras: This doll comes with a black doll stand and brush as well as a diary.
Notes: There is nothing of note about this fashion pack's availability or stockphoto.
I Heart Accessories
| | |
| --- | --- |
| | |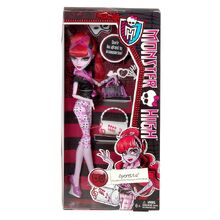 Doll: This Operetta has a pinkier tone in her hair, that is styled in a ponytail with a slight bump in the head. She wears red lipstick and red eyeshadow fading to black.
Clothes: She wears a pair of dice/domino knee length slim trousers, in white and pink. As a top she wears a black short sleeved jacket, with a large pink fold and spider web patter in the chest part. The jacket is tied by a sheer pink bow.
Accessories: This doll comes with a big range of acessories. She has her signiture mask in white, as well as a swirly earring, a black belt with dices, a purple and black handpurse with a piano inspired shape, a gym bag in white with red note details, lilac shoes with white soles and a sheer bow that ties around her head.
Extras: This doll comes with a stand and brush.
Notes: This version of Opretta is also sometimes dubbed as the "Monster Scaritage" line by some sellers. While not a popular name, it is listed here in case a search on any retailer for "I Heart Accessories" turns up with no results.
Freaky Fusion - Fusion-Inspired Ghouls
Doll: Operetta wears light pink lipstick and grey eyeshadow. Her hair is loose and straightened and the black part of her hair is parted back, to imitate Frankie Steins signiture hair style.
Clothes: She wears a short dress with plaid pattern that is actually a music score, and a tie wrapped around her waist. The dress has a white stripe in the middle, with silver buttons, and half of the dress is black and the other half is pink.
Accessories: She comes with a silver ray shaped headband, a bolt red bracelet, a mask inspired by Frankie's stiches and a shoker with bolts sticking out. She wears heeled red shoes with the front part painted black and missmatching tights, one pink and the other black. She is also wearing a pink recast of signiture Frankie purse.
Extras: This doll comes with a yellow brush.
Notes:
Boo York, Boo York - Frightseers
Doll: This Operetta has her red hair pulled in a ponytail and more spread black stips. She wears bright red lipstick and pale purple eyeshadow.
Clothes: She wears a shiny red top with a V clivage and a skirt that features graffiti art in a white background and is longer in the sides.
Accessories: She comes with crystal sunglasses, with a big quarter note, a crystal purse crytal shoes,all featuring a pale purple colour.
Extras: She does not come with any extras.
Notes:
Playsets
For organizational purposes, information on the playsets associated with Operetta, either because the playsets are made for their dolls or because one of their dolls is included with them, is only available elsewhere on the Monster High Wiki.
Costumes
Gallery