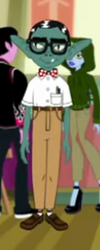 The "Nerd boy" is a 2010-introduced and cartoon-only character. He is a small, green creature with black hair and glasses. Estimates for his monster species include orc, goblin, troll, and ogre. He is often targeted by the tentacles at Monster High, with whom he has an odd relation.
Character
Personality
The nerd boy usually likes quiet activities, like participating in Penmanship Class, but he is also fond of dancing.
Appearance
He is a small, green creature with black hair and glasses. He usually wears a white shirt, light brown pants, and a red bow tie.
Relationships
Friends
The nerd boy is on good terms with Manny Taur and Deuce Gorgon.
Romance
The nerd boy has a difficult relation with the tentacles at school, which often drag him into lockers or otherwise away from the rest of the student body. Despite their violent nature, the nerd boy appears to appreciate their company.
The nerd boy also has a light crush on Clawdeen Wolf. In "Why Do Ghouls Fall in Love?", he responded positively to her falling in love with him due to Cupid's arrows and later participated in a speed-date with her in "Ghouls Rule," though he was rejected like all other candidates.
Fiction
The nerd boy is a backgrounder, but one of the three the 3D TV specials have taken a shine too, after which he went from an incidental backgrounder to a regular one who occasionally interacts with the cast. He first showed up in Volume 1's "Mad Science Fair".
Volume 1
The nerd boy is eaten alive by his own science project after breaking the wind next to the tank. Mad Science Fair
Volume 2
The nerd boy is one of the Nekrocon attendants in Ghoulia's dream. Daydream of the Dead
Volume 3
This article or section is a stub. You can help the Monster High Wiki by expanding it.
We Stop Hate Best Ghoulfriend Boo Year's Eve The nerd boy attends Penmanship Class. Ready, Wheeling and Able The tentacles have a hold on the nerd boy, but quickly drop him and retreat when Johnny Spirit floats by. Playing the Boos The nerd boy hears of Veronica Von Vamp's presence at school just before the tentacles pull him away. Master of Hiss-guise Creepateria
Why Do Ghouls Fall in Love? Nerd Boy appears in the intro, narrowly avoiding getting hit by Headmistress Bloodgood. He later appeared at the school festive along with Manny, exclaiming how horrific a maze was.Escape From Skull Shores Friday Night Frights Ghouls Rule Frights, Camera, Action!
Timeline
Ad blocker interference detected!
Wikia is a free-to-use site that makes money from advertising. We have a modified experience for viewers using ad blockers

Wikia is not accessible if you've made further modifications. Remove the custom ad blocker rule(s) and the page will load as expected.