To better cover the various aspects of the subject matter, this article has been split into one main page and several subpages. Select which one you wish to read.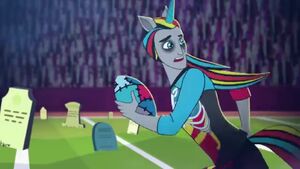 Neighthan Rot debuted in the cartoon series in the Volume 4 TV special "Freaky Fusion", which premiered on September 16, 2014. He is voiced by Josey Montana McCoy in the English version of the cartoon.
Volume 4
Webisodes
TV specials
Neighthan and his fellow hybrids—Bonita Femur, Avea Trotter, and Sirena Von Boo—have just transferred to Monster High as the latest in a line of schools where they try to belong. Neighthan is the most hopeful about their chances, not in the least because it only took him seconds to develop a crush on Frankie Stein, but keeps back on advice of his friends from the other students to spare himself get hurt. He gets an opening at proper contact when the hybrids witness the rehearsals for a play on the origins of Monster High, in part because of the message, in part because several students participating have become fused and effectively are hybrids themselves now. Hybrid-Fusions with little control over their own bodies, that is, which is why Neighthan goes to Frankie and offers that the hybrids each guide a fusion and help them get a hold of themselves again. Neighthan becomes the tutor to Cleolei, the fusion of Cleo and Toralei, whose long-standing rivalry means the fusion is constantly at war with itself. Neighthan teaches them to talk it out and learn to get along, applying his knowledge of psychology to get the desired result. They are only just done when the school comes under attack by a huge entity created by Sparky. It is specifically out for the fusions, so the hybrids and Frankie team up to lure it back to Sparky's laboratory, and bear witness as Frankie uses her own life force to deactivate it. Neighthan joins the other students as they each call onto their bond with Frankie within their own life force to revive her. From then on, the hybrids have a place at Monster High. Freaky Fusion
Volume 5
Webisodes
TV specials
Neighthan cheers on Sirena during the swim meet alongside Avea and Bonita and is later walking with Frankie, indicating his relationship with her is still going strong. He joins everyone else at the celebration for the newfound friendship between Monster High and Haunted High with the other Monster High students and his fellow hybrids. Haunted
Gallery
Webisode gallery
TV specials
Ad blocker interference detected!
Wikia is a free-to-use site that makes money from advertising. We have a modified experience for viewers using ad blockers

Wikia is not accessible if you've made further modifications. Remove the custom ad blocker rule(s) and the page will load as expected.