To better cover the various aspects of the subject matter, this article has been split into one main page and several subpages. Select which one you wish to read.
Nefera de Nile was trademarked on June 13, 2011 and her first doll came out in Mid January, 2012. As of May 15, 2015, her doll number totals 2 and makes up - of the entire Monster High doll collection. Other merchandise of her is not yet available.
Dolls
Scream & Sugar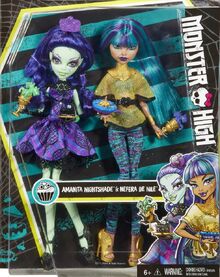 Doll: Nefera wears her hair straight down with bangs. It's dyed teal with purple streaks. Her eyeliner is teal with gold on the browbone and a deep purple lipstick. She sports her face gem in an orange colour under her left eye.
As of Now, There's no difference between Nefera's Old Franchise version and her New Franchise version, in sense of face or body.
Clothes: Nefera sports a simple three piece outfit consisting of a Teal, Purple and grey striped hieroglyphic printed bandeau top and leggings. Overlaying that is a Flutter sleeved mesh shirt in gold with black trim. the mesh top is decorated with gold glitter.
Accessories: Nefera's accessories are minimal, she sports a high neck chain necklace in gold with a gold arm band, a black hieroglyphic belt with a scarab beetle buckle and golden heels decorated with a fan and pyramid wall motif.
Extras: Nefera is seen in her photo with a gold plate with a black monster cake with green eyes. She is also holding a golden goblet with a green monster poking out of it. She does not come with stand or a journal. She comes in a 2-Pack with Amanita Nightshade
Notes: The streaking in Nefera's hair (as with any other ghoul) will vary from her stock photo.
Dolls
Campus Stroll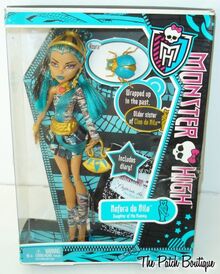 Nefera wears a dress of bandages accentuated with the colors blue and orange. Her dress is half sleeveless, with the one existing sleeve covering her left arm all the way to the wrist. Attached to her dress is a blue sash which goes from the left shoulder to the middle of the waist on the front and from there to the waist on the back. Over the sash, she wears a thick golden belt with a snake design curled around it, she has a mummy wrapping leg cuff on each leg. On her head an elaborate golden head piece is seated that encircles her yellow, turquoise and black high ponytail and single braid. Nefera's left earring represents a golden snake, while her right earring is a golden triangle with three pendants hanging from it. Her right arm is decorated with a studded golden bangle and her golden necklace resembles a snake curled around her neck holding a red orb. Her final piece of jewelry is a large blue ring she wears on her right hand. Her shoes are black and golden with open toes and a fan of orange, blue and black. The heels are in the shape of blue king cobras. The doll comes with a golden and blue handbag with a double-headed snake for handle, an Azura figurine, a real-life sized black brush, a black doll stand and a diary. She has orange and yellow eyeshadow, black eyeliner and turquoise lipstick. Both Nefera's San Diego Comic-Con International display and her stockphoto show her with a blue brush and blue doll stand. The doll has never been put on the market with those.
Boo York, Boo York - City Schemes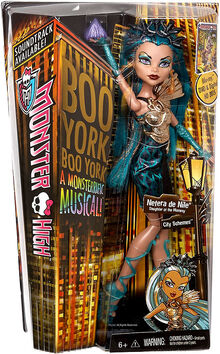 Doll: This Nefera features her blue hair middle parted. Her hair also includes white streaks, gold and black streaks as well as gold tinsel. She still features her face dazzle, and her make up is very elaborate. She has winged eyeliner, that curls, eyeliner under the low lashes that makes an egyptian design, gold eyeshadow under the crease, and teal and gold in the browbone. She is also wearing red lipgloss.
Clothes: She is wearing a short assimetrical tube dress in black pleather with teal snake designs, as well as a strip of black fabrick that comes from over her sholder all the way to her knees, finalizing in a diagonal cut. She also wears a golden shiny bodydress, that features an armor suit, with snakes and over her left shoulder a stalagmite crystal design, that dramatical arises from the armor part.
Accessories: She wears a greek inspired olive leaf crown, but instead of leaves it had crystals and instead of branches it has snakes. It is black. Her earring match the crown, behing black snakes that hold a crystal. She has turquose molded fingerless opera gloves and a purple pyramid amulet. Her boots are translucent blue, with snakes crossing up her lower legs and the sole consists of crystals.
Extras: She comes with a styalized crystal stand and an equally styalized brush, and her diary is intended to be downloaded through the website.
Notes: Her skin has been slightly lightened, with a shimmery effect over her whole body, her eye shape has shanged to a rounder one, the pyramid amulet was changed from gold to purple.
Merchandise
Vinyl Figures
Boo York, Boo York - City Scheemes
Nefera received a Vinyl Figure in July, 2015, as a San Diego Comicon International Exclusive Vinyl Figure, being the pioneer of the Exclusive Vinyl Figures. Her vinyl sports her City Schemes fashion, from Boo York, Boo York, featuring the body piece, crown and boots. In her hand she also has a molded piece of the Comet in purple, like her doll. Her pose consists of the Egyptian profile pose, with the angled arms, Comet in one hand and the hair is long to the feet, holding the figure up.
Gallery
Ad blocker interference detected!
Wikia is a free-to-use site that makes money from advertising. We have a modified experience for viewers using ad blockers

Wikia is not accessible if you've made further modifications. Remove the custom ad blocker rule(s) and the page will load as expected.