⁂

Welcome to Monster High!

⁂
Where the Teenage Children of Legendary Monsters Take Creepariffic Classes!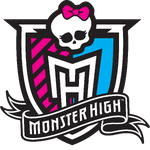 Monster High is a franchise from Mattel that brings together the hip teenage descendants of the world's most famous monsters to brave the trials and tribulations of high school.
Freaky just got fabulous.
The Monster High Wiki strives to be an encyclopedic resource for all things Monster High. Want to add info to the encyclopedia? Just click "edit" at the top of any page, and be sure to follow our style guidelines.


⁂

Characters

⁂
Monster High is populated by new girl Frankie Stein and her "ghoulfriends", their boyfriends and crushes, and the teachers and staff of Monster High.
Click here for a full list of Monster High characters
Book Series
Webisodes
The first "Monster High" novel by Lisi Harrison, bestselling author of the popular series 'The Clique', was released on Sept. 1, 2010. Check it out along with info on the other books in the series.

Read about the Monster High book series
The first webisode premiered on May 5, 2010. The series is has since reached the 3rd season.

Read about the Monster High webisodes
Toys, Dolls and Merchandise
Mattel and Monster High
Mattel sells dolls and plush versions of many of the Monster High characters, with several new alternate versions due soon.

Read about the Monster High dolls, toys and merchandise
Information about Mattel specifically relating to Monster High, such as behind-the-scenes with the designers of the series, collaborative partnerships and sales information.

Read more about Mattel
⁂

Monster High Wiki Affiliates

⁂
⁂

Monster High Wiki News

⁂
Check the Monster High Wiki news blog for the latest updates and breaking news.

⁂

Monthly Monster High Poll

⁂
Who's your favorite newcomer to the Monster High series?
⁂

Monster High Wiki on Twitter

⁂
⁂

Mattel & Monster High News

⁂
Loading RSS data...
⁂

Random Quote

⁂
⁂

Did You Know?

⁂
⁂

Monster High community blogs

⁂
Create blog post
Blogs
This is a very important blog! This is a blog about something I think we ALL want. CROSSOVER BETWEE…

Read more >

Hey guys Ari hauntington here and this evening I was thinking about how I have so many MH dolls but…

Read more >

So I was at school today thinking about something. A new monster. Her name would be Harley daughter…

Read more >
See more >