Home
Talk

0
922pages on
this wiki
⁂ Welcome to Monster High! ⁂
Where the Teenage Children of Legendary Monsters Make A Difference!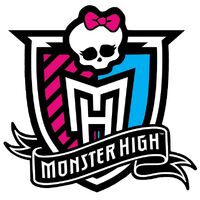 Monster High is a media franchise from Mattel that was launched in 2010. Its story revolves around the hip teenage descendants of the world's most famous monsters as they brave the trials and tribulations of a mixed-creature high school in a world that's barely ready for that.
What hexciting adventure will the moon shine upon this night?
The Monster High Wiki strives to be an encyclopedic resource for all things
Monster High
and all help is welcome. Just click "edit" at the top of any page to add or correct information, but be sure to follow the
editing policies
and the
house rules
. If you have suggestions for improvement or complaints, contact an
admin
.
⁂ Cast ⁂
Monster High follows the lives of the student population of the franchise's titular high school: Monster High. Whether they deal with everyday problems or struggle their way through an adventure, sitting still is rarely part of the schedule. Joining in their ordeals are the staff of Monster High, the humans from nearby towns, students of rival schools, and an assortment of other colorful figures - both ones with good intentions and ones with bad intentions. For example,

Have you already been introduced to this character?

Nefera de Nile

And would it be known to you that they:

Are three years older than their sister Cleo?
Show many signs of having a narcissistic personality disorder?
Were the first character to utilize the adult female doll mold?
Have a soft spot for beetles and cats?
Were born with a scar on their left shoulder - the one they keep covered?

Click here for a full list of Monster High characters.
⁂ Fiction, Merchandise, and Design ⁂
Dolls and Merchandise
Mattel
Mattel sells dolls and plush versions of many of the Monster High characters, a number growing still.

Read about the Monster High dolls and merchandise
Information about Mattel specifically relating to Monster High, such as behind-the-scenes with the designers of the series, collaborative partnerships and sales information.

Read more about Mattel
⁂ Affiliates ⁂
Advertise your wiki or project to the Monster High Wiki
⁂ News ⁂
- Dolls -
- Avea Trotter, Bonita Femur, Gilda Goldstag, Neighthan Rot, Invisi Billy, and Sirena Von Boo have hit stores!
- New students Casta Fierce, Lorna McNessie, River Styxx, Vandala Doubloons, Marisol Coxi, Porter "Paintergeist" Geiss, and Kiyomi Haunterly are heading for Monster High and they're just a few months away.
- Classic student Garrott DuRoque will receive his first doll soon.
- Iris Clops and Manny Taur are 2014's exclusive San Diego Comic-Con International dolls.
- Trademarks have been requested for Seth Ptolemy, Lux Ptolemy, Kjersti Trollson, Luna Mothews, Gooliope Jellington, Elle Eedee, and Batsy Claro.
- Merchandise -
- Have an iPhone? Get the Ghoul Box app! Don't forget about the Sweet 1600 app either! Or buy yourself a figurine and try Finders Creepers!
- 13 Wishes is out now! What if Howleen had wished all power to the Shadow Genie?
- Fiction -
- The fourth (and final) book of Ghoulfriends is out.
- "Creepateria" is the latest webisode. The next three webisodes' airdate is either July 24th or July 31st.
- "Freaky Fusion" will premiere in October 2014.
- Have you been itching for an actual Monster High comic book? That will be taken care of in July.
- Events -
- San Diego Comic-Con International will be held from July 24 to July 27.


⁂ Poll ⁂
⁂ Blog Feed ⁂
Create blog post
Blogs
Hey everybody!

I was wondering what you though of the MH new dolls on the EAH dolls (Not eah officia…

Read more >

The recent Webisode "I Only Have Eye for You" seems to stir a lot of question about Manny Taur and …

Read more >

How often do ghouls get pets anymore? Null.

Read more >
See more >