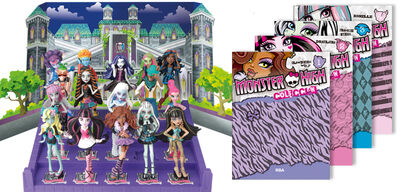 The Monster High Figurine Collection is a set of figurines sold with accompanying magazines. The series is produced by RBA Magazines, and released fortnightly in France and other European countries.
Each figurine depicts a main Monster High student, and is packaged with a magazine. As well as general facts about the featured character, the magazine also includes a diary entry from each character depicting an event in their life, accompanied by a new piece of artwork.
The figurines have been released in the following order:
Figurines
Ad blocker interference detected!
Wikia is a free-to-use site that makes money from advertising. We have a modified experience for viewers using ad blockers

Wikia is not accessible if you've made further modifications. Remove the custom ad blocker rule(s) and the page will load as expected.