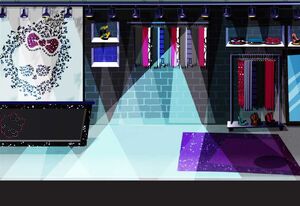 The Maul is a digital paperdoll feature of the Monster High website. Users can buy clothes and accessories for their digital paperdoll and its profile. The section was added to the website on October 23, 2013 when the entire website was revamped. Items in the store are paid for with bones collected by engaging with the website, such as playing web games and watching webisodes.
The items available are divided in two categories: Fashion and Themes. Fashion is, in turn, divided in tops, pants/skirts, dresses, swimsuits, accessories, shoes, and haircuts. Many of the fashion items on sale when the Maul section was opened come from Teen Scream Freaky-Fab Photo Shoot, but plenty of unique items, often character-based, have been added since. Only items of female characters for a female paperdoll are available. The themes are sets of a banner to go at the top of the paperdoll's profile and a background for the profile. Most are character-based, comprising the entire cast regardless of gender, but there's three general ones available too.
Items
Fashion
The fashion sold ranges in price from zero bones to 350 bones. The selection is divided in tops, pants/skirts, dresses, swimsuits, accessories, shoes, and haircuts. Dresses tend to be the most expensive and only material to create a female paperdoll is available. New items are added once in a while, but the schedule is random.
Themes
The themes sold range in price from zero bones to thirty bones. Three of them are general themes, while the rest is character-based. There's one theme for each character with the exception of Meowlody and Purrsephone, who share a theme. Character-based themes are the same ones used on character profiles elsewhere on the website. On average, character-based themes are released a short while in advance of the respective characters' profiles.
| | |
| --- | --- |
| Date | Characters |
| October 23, 2013 | Abbey Bominable, Headless Headmistress Bloodgood, Catrine DeMew, Catty Noir, Clawd Wolf, Clawdeen Wolf, Cleo de Nile, Deuce Gorgon, Draculaura, Ghoulia Yelps, Gigi Grant, Frankie Stein, Heath Burns, Holt Hyde, Howleen Wolf, Jackson Jekyll, Jinafire Long, Lagoona Blue, Meowlody & Purrsephone, Nefera de Nile, Operetta, Robecca Steam, Rochelle Goyle, Scarah Screams, Skelita Calaveras, Spectra Vondergeist, Toralei Stripe, Twyla, Venus McFlytrap |
| December 14, 2013 | Clawdia Wolf, Elissabat, Honey Swamp, Viperine Gorgon |
| December 21, 2013 | Jane Boolittle |
| January 16, 2014 | Madison Fear |
| March 01, 2014 | Gillington "Gil" Webber, Sloman "Slo Mo" Mortavitch |
| March 15, 2014 | Invisi Billy |
| April 03, 2014 | Avea Trotter, Bonita Femur, Neighthan Rot, Sirena Von Boo |
| May 29, 2014 | Casta Fierce, Gilda Goldstag, Wydowna Spider |
| September 25, 2014 | Lorna McNessie, Marisol Coxi |
| November 24, 2014 | Kiyomi Haunterly, Porter "Paintergeist" Geiss, River Styxx, Vandala Doubloons |
| February 11, 2015 | Amanita Nightshade |
| March 11, 2015 | Garrott du Roque, Iris Clops |
Ad blocker interference detected!
Wikia is a free-to-use site that makes money from advertising. We have a modified experience for viewers using ad blockers

Wikia is not accessible if you've made further modifications. Remove the custom ad blocker rule(s) and the page will load as expected.