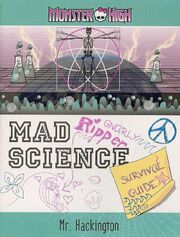 Flyleaf
Lagoona's comment (blue pen):
First off you cannot get out of this class. When it says "core" and "requirement" they really mean it. You can put it off but eventually you'll have to do your time in the laboratory.
You'll also have to take Mad Science before you can take any other science class at MH like my fave, Ocean-ogrephy.
Class Overview
Mad Science is one of the cornertomb classes at Monster High. Students will be introduced to foundational concepts such as the mad scientific method, creepology, the law of claws and effect as well as the theory of "What Goes Bump in the Night?" A veritable boo's who of monsters began their lurch to fame with this class and Monster High students are considered the scream of the crop in the Mad Scientific world. A field trip to the catacombs will also be scheduled as part of this class. Students must have a permission slip signed by a parent or goredian to participate in the field trip.
Lagoona's comment (blue pen):
All right mates, we all know that this is a mandatory class… for every grade… for every year, but it seems like there's always some monster that jumps into the deep end of the pool and forgets they don't know how to swim. So this year I'm going to throw you a line before you jump, now here's most everything you need to know about surviving the treacherous depths of Mad Science with Mr. "Hack" Hackington. I'm sure that you'll all do swimmingly if you take my advice.
Lecture and Tests
The instructor will spend the first half of the day's class lecturing on a topic while the second half of class will be reserved for questions and practical lab work.
Lagoona's comment (blue pen):
Mr. Hackington has some scary cool stories and sometimes the second half of class is taken up by the story he started telling in the first half. He considers all stories as information you need to know and will use questions from his stories on his tests.
Tests will be given to assess a student's grasp of the basic concepts discussed during the week.
Lagoona's comment (blue pen):
Oh… he may forget your name, his name or the name of the school but he'll never forget to give his end of the week test. Make sure you're ready.
Supplies
- Lecture and lab notebooks
- Safety eye wear - if applicable
- Hearing protection - if applicable
- Insulated rubber gloves
- Lab coat
- Knee length rubber boot(s)
Lagoona's comment (blue pen):
If this list makes you think this class might be messy you're right.
Oops… dripping salt water!
Mister Hackington's Rules
1.Don't be late.
2.No iCoffins in class.
3.Don't meddle with laboratory equipment or experiments that do not belong to you.
4.No signed permission slip-no field trip to the catacombs.
5.I reserve the right to reassign lab partners.
6.Don't ask to change the temperature in the laboratory.
7.Don't ask if we are having a test this week. We are.
Lagoona's comment (blue pen):
1.Mr. Hackington locks the laboratory door as soon as the bell rings and if you're late you'll get locked out and have to come in on Saturday to make up the class. No exceptions for any monster. Even Ghoulia had to come in one Saturday. The only teacher's pets Mr. Hackington has are floating in jars on his desk.
2.Better leave your iCoffins in your locker too or totally power them down and put them in your backpack. If Mr. Hackington hears one ring… or even buzz… he'll confiscate it and you'll have to write a 10-page screesearch paper on a subject of his choice before you can get your iCoffin back.
3.You really should also pay attention when it says not to meddle with laboratory equipment or experiments that do not belong to you. Poor Heath Burns, who is really impulsive, learned this the hard way. There was this totally ginormous machine that got donated to the school by a famous mad scientist who had graduated from MH. It was painted entirely black except for one button. One. Really. Shiny. Button. When Heath was well enough to come back to class he seemed like the same old monster except he asked to change seats to be as far away from the machine as possible.
4.Every monster at MH knows something about catacombs beneath the school-some more then others-but it's Mr. Hackington's specialty. He's even the faculty sponsor for a student creature-watching club. Mr. Hackington says that there are some pretty fierce critters down there.
5.It's probably not a good idea to partner up with your BMFF - Best Monster Friend Forever - either cause if Mr. Hackington thinks the class is having too much fun and not paying attention he'll put all the student's names in a skull and pull two names randomly. He calls it being "Drawn and Partnered" which is very funny to him for some reason.
6.If you are a monster that doesn't like cold, damp climates you'll need to dress warmly or you'll totally be miserable. It doesn't matter what time of the year you take the class either. It just never gets warm or dry down there. It's actually one of the few classrooms where my skin didn't flake but I always needed a little time in the sun when class was over.
7.Mr. Hackington loves to torture his classes with his tests but if you pay attention to these things you can be prepared.
- If he makes a point and then laughs so hard he starts hacking - write down whatever it was he said and memorize it. You will see it on a test.
- If he ever begins a story with "When I was working with insert Mad Scientist name here", definitly write down the name of the Mad Scientist.
- The first test will be on Mr. Hackington's Rules. He will tell you they're not that important and then laugh-see the first point.
All right ghoul friends that's all I can think of for now. Hope you'll take the advice I've written down here and then scare it forward.
Lates, Lagoona
Mad Science 101
Creature Watching
| | | |
| --- | --- | --- |
| Date | Picture or Description | Notes |
Take with you on your next creature-watching adventure and record your findings.
Faculty
This class is taught by Mr. Hackington who, before beginning his teaching career at Monster High, was a professional Igor for some the maddest minds in science. His enthusiasm and excitement for the subject are legendary at Monster High.
Lagoona's comment (blue pen):
Mr. Hackington is legendary for a reason… mostly as a result of his class rules and the consequences afflicted on those who break them.
Gallery