To better cover the various aspects of the subject matter, this article has been split into one main page and several subpages. Select which one you wish to read.
Luna Mothews
 was 
trademarked
 on May 07, 2014 and her first doll came out in Late May, 2015. As of January 01, 2015, her doll number totals 0 and makes up 0.00% of the entire
Monster High
doll collection. Other
merchandise
of her is not yet available.
Dolls
Boo York, Boo York - Gala Ghoulfriends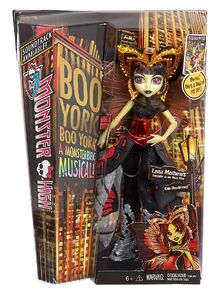 Doll: Luna wears black lipstick and grey/black eyeshadow. Her hair is styled in bangs, with longer ones falling down the sides of her face, and two opposite upward ponytails, each in one side of her head.
Clothes: She ears a black sleeveless tight overall jumpsuit, in pleather, and a shiny red corset over it, with a sewn on train, in the shape of moth wing, with black and red pattern and a big white skullete. She also wears a sheer shoulder cover.
Accessories: She wears a big, shiny orange headpiece around her head, in the shape of two butterfly wings, made of crystals and stalagmites. She also wears silver boots made of silver little butterflies wrapping around her lower leg, with a butterfly heel.
Extras: She comes with a styalized crystal silver stand and a similar brush, and her diary.
Notes:
Boo York, Boo York - City Ghouls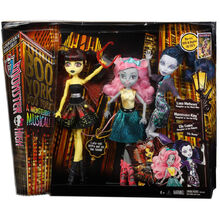 Doll: This Luna's hair is pulled back in two high ponitails that flow down to her shoulders, as well as straight bangs and longer bangs framing her face. Her lipstick is pitch black.
Clothes: In her everyday outfit, Luna is wearing a short strapless dress, where the top is sparkly with two metallic strands around the torso area, and a skirt that's flowy and exhibits a pattern that looks like the skyscrapers of a city at dawn, with sunset hues.
Accessories: Her shoes are short botties with laces and a cacoon heel, all in plain black plastic, and she is wearing sunglasses in translucent red that look like the two spread wings of an insect, more especifically a moth, where the glass has a compound texture.
Extras: This doll comes with no extras.
Notes: This doll is only available in a 3-pack with Elle Eedee and Mouscedes King.
Gallery
Ad blocker interference detected!
Wikia is a free-to-use site that makes money from advertising. We have a modified experience for viewers using ad blockers

Wikia is not accessible if you've made further modifications. Remove the custom ad blocker rule(s) and the page will load as expected.