To better cover the various aspects of the subject matter, this article has been split into one main page and several subpages. Select which one you wish to read.
Lorna McNessie was trademarked on November 27, 2013 and her first doll came out in Early November, 2014. As of January 01, 2015, her doll number totals 1 and makes up 0.29% of the entire Monster High doll collection. Other merchandise of her is not yet available.
Dolls
Monster Exchange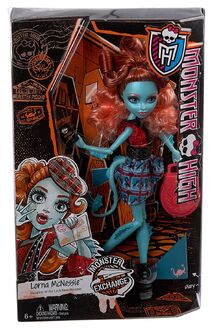 Doll: Lorna has bright orange hair with lowlights and in this doll she wears it loose in the back but she has part of it in a curled ponytail in the top right of her head. Her hair is curled. Her lipstick is a pinkish red and her eyeshadow is a thick solid grey with a pink line in the crease.
Clothes: She is wearing a red top with kite shaped seams pattern and a net bib. The sleeves are curled and puffy. She also wears a top waist kilt, with a plaid-ish design that is mostly red chess and waves with Lochness Monster type creatures printed in it. It also has occasional black hearts with celtic knots. Her kilt is shaped as if it wraps around her waist, with excess fabric falling.
Accessories: Lorna comes with a redish pink travel handbag shaped like a sporran. It has molded celtic knots and studs, as well as an interpertation of the Lochness Monster in the front. It also has an angled studded handle and it opens. The back of the bag shows a molded tartan pattern. She also has a small tartan tam in her head. She wears one ear cuff only, on her right ear, which is a black Lochness Monster made of celtic nots. She's also wearing a vinyl black waist belt, with molded celtic knots and studs, and two plastic studded wraps that go around her left shoulder.The belt clips at the back. Her shoes are simple black with celtic knot like laces across the front of the shoe. They are plataform wedges, and the heel and plataform are basic molded grey bricks, with some bricks sticking out, referrencing the Scottish Castles.
Extras: She comes with a classical black stand and brush and a passaport/diary hybrid.
Notes:
Ad blocker interference detected!
Wikia is a free-to-use site that makes money from advertising. We have a modified experience for viewers using ad blockers

Wikia is not accessible if you've made further modifications. Remove the custom ad blocker rule(s) and the page will load as expected.