To better cover the various aspects of the subject matter, this article has been split into one main page and several subpages. Select which one you wish to read.
Kjersti Trollson was trademarked on April 16, 2014 and her first doll came out in Late October, 2015. As of January 01, 2015, her doll number totals 0 and makes up 0.00% of the entire Monster High doll collection. Other merchandise of her is not yet available.
Dolls
Brand-Boo Students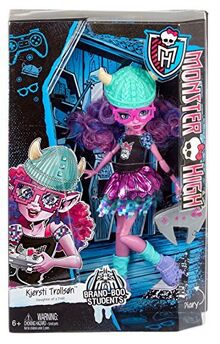 Doll: Kjersti has bright blue pixelated eyes, pink lips and pink skin. Her hair is pink, blue and curly and put into two puffy ponytails. Her ears are large elfish like ears.
Clothes: Kjersti is wearing a black shirt with a pixelated skullette with a viking hat on it. The shirt has off-shoulder sleeves but has a pink strap holding it up. She has a metallic petal shaped over skirt and pixelated print underskirt with a ridged hem.
Accessories: She sports a knit beanie with horns and studs to resemble a viking hat. Her purple earrings have the same pixelated skullette logo on her shirt. Kjersti wears pixelated glasses to complete her look. She possess a game console inspired travel bag. Her shoes are wedged purple boots with over-sized socks.
Extras: She includes a stand, a brush and a passport diary.
Notes:
Ad blocker interference detected!
Wikia is a free-to-use site that makes money from advertising. We have a modified experience for viewers using ad blockers

Wikia is not accessible if you've made further modifications. Remove the custom ad blocker rule(s) and the page will load as expected.