To better cover the various aspects of the subject matter, this article has been split into one main page and several subpages. Select which one you wish to read.
Kala Mer'ri was trademarked on January 07, 2015 and her first doll will come out in winter 2015-2016. As of January 01, 2015, her doll number totals 0 and makes up 0.00% of the entire Monster High doll collection. Other merchandise of her is not yet available.
Dolls
Great Scarrier Reef - Down Under Ghouls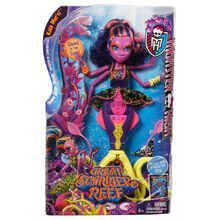 Doll: This Kala has her hair in a short tight ponytail, with tight curls, complete with fair dark blue highlights in her orange with light orange and yellow lowlights. Her makeup is really dramatic, with hot pink lipstick and yellow polkadot, and wild eye shadow, in fading sunset colours of magenta, orange and yellow, long eyelashes and yellow and pink dots under her orange eyebrows.
Clothes: Kala, as half squid, solely wears a short sports bra, in yellow and blue coral like pattern, and an overall in yellow sheer with printed squids, and a long collar.
Accessories: This doll is wearing a translucent dark blue stud belt, a light pink bracelet and two coral like arm cuffs, in yellow and orange, along with her big dark blue hoop earrings with sharp studs.
Extras:
Notes:
Ad blocker interference detected!
Wikia is a free-to-use site that makes money from advertising. We have a modified experience for viewers using ad blockers

Wikia is not accessible if you've made further modifications. Remove the custom ad blocker rule(s) and the page will load as expected.