To better cover the various aspects of the subject matter, this article has been split into one main page and several subpages. Select which one you wish to read.
Jinafire Long
was
trademarked
on June 26, 2012 and her first doll came out in Mid November, 2012. As of January 01, 2015, her doll number totals 5 and makes up 1.32% of the entire
Monster High
doll collection. Other
merchandise
of her is not yet available.
Dolls
Scaris: City of Frights
| | |
| --- | --- |
| | |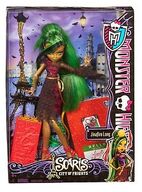 Doll: Her eyes are surrounded by maroon and gold eyeshadow, with deep maroon lipstick. Her hair tied into a high bun and a long ponytail.
Clothes: In preparation for her Scaris fashion tour Jinafire wears a deep purple dress with red flame and blue and black cloud patterns streaked across it. The dress has a high collar and gold mesh runs across the top of her chest, continuing to form a sleeve, with red and black scale patterns on it and a large flared end. Her gauze skirt sports the same scale pattern.
Accessories: Jinafire's shoes are red, with red tassels and golden wedges, with a twisted heel, a dragons eye on the wedge, and the sole a claw holding a golden orb. On her upper right arm is a twisted red bracelet. Her earrings are red knots, with a tassel. She has a golden belt with a amulet pendulum hanging from it, the amulet adorning a skullette. Jinafire's hair adornment consists of a black rod with long red tassels hanging from the end with a golden fanged lotus situated in the centre. Jinafire's travel bag is red, with black wheels, and a black flame like handle and gold flames running across. A huge red dragon decorates the front and the back has a scale pattern.
Extras: The doll comes with a black stand and black doll sized hairbrush, and a portfolio depicting some of her designs and journal entries.
Notes: There is nothing of note about this doll's availability or stockphoto.
New Scaremester
| | |
| --- | --- |
| | |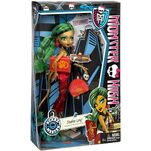 Doll: Her hair is is pulled back into a simple but stylish side swept ponytail, while her bangs are slicked to the right and secured into her ponytail. Her hair color is primarily a jade green with a second shade of a lighter green. There is also a mixture of black streaks running through it. Her lipstick is maroon, while her eye shadow is two tone green and applied all around the eyes, in a fire design.
Clothes: Jinafire wears an elegant wrap-around top and metallic jeans to kick off the new scaremester. Her top has a traditional look to it, with a black sash wrapping around her neck and waist. The sashes have gold dragon accents printed on them. The top is a faded aqua with soft touches of purple that form a flame-like pattern. She wears red metallic pants with a long gold and black metallic scale hem.
Accessories: She wears a pair of dangling red paper lantern earrings, and a jade green pearl bracelet on her left arm. Her shoes are also jade green and are basic closed-toe high heel pumps. The heels of the shoes are green Foo Dogs, and the overall finish of the shoes is metallic. She has a cherry red purse in the shape of a paper fan, it is decorated at the bottom with gold accents, and has a long black strap. She also comes with a matching red portfolio with a gold dragon emblem on the front and a skullette clasp on the back.
Extras: She comes with a black doll stand and brush, and a logbook.
Notes: There is nothing of note about this doll's availability or stockphoto.
Freaky Fusion - Freaky Fusions
| | |
| --- | --- |
| | |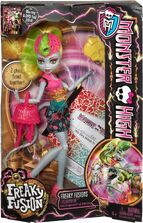 Doll: This is a very special edition doll. She is the fusion between two characters, Lagoona Blue and Jinafire herself, therefore it is not similar to the regular Jinafire, and instead contains features from both dolls, so her complexion is completely altered. Her facemold is a mix from the two, with a facial expression similar to Lagoona's, however with Jinafire eyes, with lime green irises and a dragon pupil. Her ears a a perfect mix between the two species, with a fin like design, but pointed like Jinafire's. Her skin is baby blue and she has bright blue freckles, with webbed hands, but a bodymold filled with molded scales and a dragon-like torso, including a tail like Jinafire, only with golden hair, and golden Lagoona fins, in her calves and arms. Her makeup resumes itself to light red lipstick and a coral flame-shaped eye design, with gold eyeshadow all the way up to the eyebrows. Her hair is mostly bright yellow, with miscellaneous lime green streaks all around, and it is styled in a simple high ponytail, with an elaborate bang design that looks like a spiraling wave, in the lime green colouring, that pops.
Clothes: Lagoonafire sports a colourfull short dress, with a Chinese-inspired empress top, with a square-shaped clivage and long, upturnt, collar, all in a coral pink complexion, with short sleeves from where black ruffles sprout from. Her bodice also has two cuts in the hips. Her skirt is black, with a shiny golden strip on the top, where a blue netted peplum is stiched on. The pattern in the skirt contains an harmonious design of Chinese parasols and jellyfish, with some being fused together.
Accessories: Lagoonafire is accesorised with items with an aquatic and a chinese theme. Around her bodice, she has a body-piece, in gold, that resembles flowerly ribs, with swirly designs and somewhat of a seaweed feel to it. She also sports a detailed headpiece, that wraps around her excentric bangs. This headpiece is made of strings of pastel pink pearls mixed with other water imagery, and it snaps around her head, bangs and ponytail like a shell. It is made in the same plastic as her shows, which are heels with a small plataform, with molded scales, ruffles on the front base, shoelace-like details in the front, resembling her body-piece, and swirls where the heel should be. Finally, her purse is chunky and in a translucent pink, in the shape of a jellyfish, with hanging tenticles and a handle. The purse is usuable as it contains a big opened compartment.
Extras: This doll comes with her own diary, of the fused ghoulfriends, and a bursh and stand, both in neon yellow plastic.
Notes: Her stockphotos showcase differences from her final design, as her fins and tail are transparent instead of gold and her headpiece is on incorrectly.
Make a Splash
Doll: Jinafire's hair is heavily gelled into a fan-like ponytail with blunt cut bangs. She wears pink and pale silver eyeshadow and medium red lipstick.
Clothes: She wears a red one-piece swimsuit with a Chinese-inspired fan and dragon print. Translucent green flame details adorn her thighs and right shoulder and bust. .
Accessories: Jinafire wears drop earrings and a curled bracelet similar to her Scaris doll, cast in translucent pink plastic. She also comes with a fan-shaped bag recycled from her Scaremester doll, as well as flame-shaped sunglasses in the same pink color. She also comes with a beach towel in a similar print to her swimsuit and shoes that are recycled from her Scaris doll and recast in translucent pink
Extras:
Notes:
Gloom and Bloom
| | |
| --- | --- |
| | |
Doll: This Jinafire has a purple smokey eye with red makeup under her eye, shaped like a flame. Her hair is up in a bun and part loose, with curly bangs falling down her face and wavy hair flowing from inside the bun, on top of her head.
Clothes: Jinafire is sporting a purple dress resembling a qipao, with black vines and dragon details, a noticble violet scale pattern, red trims and red shoulder pads shaped like flowers or flames. Additionally she has a red over skirt that is removable, wraped around with a layer of red vinyl. It has gold dragons and flowers, and a black layer of fishnet.
Accessories: She is wearing a red headpiece in the shape of a flower and black earrings which are fans with strands hanging down. She also has a similar belt chain, with several designs like the ones in her earring hanging from a thread, a jade green bracelet in one wrist and a black dragon and green pearl bracelet in the other. She also comes with green shoes with dragon heels, that, just like the other dolls in the line, come with leg bracelets in shape of fans and red flowers, with black branches sticking out.
Extras: She comes with a big golden chinese inspired vase, with a flower arrangement inside with dragon shaped roots. She comes with 2 golden gardening tools, a shovel and a pair of gardening scissors. She also has a fan shaped handbag, for storing the tools. She has a stand, brush and her own diary.
Notes: In the stock photos, her vase is displayed as lime green rather than gold.
Freak Du Chic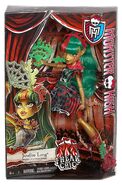 Doll: This Jinafire has dramatic theatrical makeup. She wears green eyeshadow on her upper lids and red on her lower lids, along with swirl and dot shapes. Her lips are dark red. Her hair is solid jade green with a single red and black streak. It is pulled into a half ponytail with curled bangs.
Clothes: She wears a dress inspired by the circus, with ripped sheer fabric around the shoulders. It features black, green, and red harlequin patterns and stripes with a sheer underskirt. Additionally she has a black and green striped belt around her waist.
Accessories: Jinafire wears a translucent red headband with fire shapes that matches her flame-shaped collar in the same color. She wears translucent red knee-high boots with fan-shaped heels.
Extras: As Jinafire is Freak Du Chic's fire-eater, she comes with a green fan and a green flame piece that is inserted into a hole in the doll's mouth (similar to Ghoul Sports Clawdeen's bubblegum) She also comes with a stand and a poster.
Notes: Her fan and fire were originally more translucent than in the final doll.
Ghouls' Getaway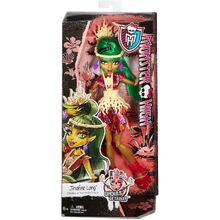 Doll: Jinafire sports deep purple lipstick and a fiery design around her eyes of the same color, accented with a yellow line under the crease. Her hair is mostly green, styled long with short straight bangs, that has been parted to make a side high-ponytail, which acts as a headband that holds the rest of the loose hair back. There is a single black streak that flows in her bangs and through the ponytail.
Clothes: This doll's dress is simple, it's a basic short dress, in red fabric with several Polynesian-related patterns such as canes and tiki masks, with a knee-long skirt cut into a jagged shape that looks like a triangle from front and back, with short wide sleeves and no neckline.
Accessories: This specific Jinafire is highly accessorized, to fit a tribal and Polynesian theme offered by the line, wearing a big headpiece in beige that includes molded bamboo canes that wraps around her head, with molded flames that sprout from the back of her head. Her drop earrings are violet and in the shape of a Tiki idol hanging by three beads, and she is wearing two similar arm braces, which resemble both torches and bracelets made of hay, with molded fire, in red. Her red shoes have a similar design, with the same torch around the ankle and Tiki idols as heels, with a strap around the feet and tall platforms, with a thread of red beads outlining most of the shoe. Finally, a detailed body wrap made of beige plastic, with a belt-like adornment made of canes, with two molded flames that fall around her hips, a Tiki mask in the buckle and a wrap around the doll's neck, made of canes, with yet another Tiki idol between the two suspender-like straps.
Extras: This Jinafire does not include any extras.
Notes: The dolls' wristbands are purple in the promo photo, but are red on the final doll.
Fierce Rockers
| | |
| --- | --- |
| | |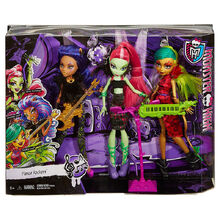 Doll: Jinafire is ready to join the band with this ansemble. Her hair is her natural jade green, long and straight, however, there is a fake shaved effect on the left side of her head, made by the hair pulled all the way to the back of her head. It also features a single streak of bright light green. Her lipstick is mauvish red and her eyeshadow is fiery, mostly in shades of red and purple, both colours joining together to make a flame around both her eyes.
Clothes: Her outfit is, like always, inspired by the Ancient Chinese culture, this time mixed with glam rock elements. Her dress resembles a classical qipao, in a bright red fabric, with printed cerise dragons all around. The dress is assymetrical, however, from the petal colar around her neck, where a tule red flame sprouts from her left shoulder, to the train of the dress, that is cut to only cover her left leg, down to the knee, and rear legs, while her right one is covered by a short black skirt-like assemble. The dress also features a purple string around the waist.
Accessories: Jinafire is wearing her signiture earings and bracelet, in the same colour, the earrings resembling red knots with tassels while her ankle boots come in black and feature a dragon design for the heel, that springs aroun the vamp, that is smooth and leathery.
Extras: This Jinafire includes a bright green keytar, with painted on black keys, and a green fabric string that can go around her body. Her keytar features a molded dragon on the bottom, with scales adorning it and legs and tail and the key, while the hande is the dragon's head, with whiskers and fangs. She can only be purchased along with the Clawdeen Wolf and the Venus McFlytrap of the same line, as a 3-pack.
Notes:
Merchandise
Scaris: City of Frights
Jinafire will receive a Basic/Scaris Vinyl Figure that has yet to be showcased and released. The Basic Vinyl shows Jinafire Long wearing her very detailed fashion from Scaris: City of Frights, also considered her Basic fashion, featuring her purple dress with fire accents and assimetrical sleeves, her headpiece and a long green hair, styled in a bun with bangs and straight hair flowing down, along with her regular golden skin with molded scales, her tail and her green dragon eyes. The pose of the vinyl shows Jinafire standing straight, with her right arm pointing straight forward and her left arm posed straight to the side.
Gallery
Ad blocker interference detected!
Wikia is a free-to-use site that makes money from advertising. We have a modified experience for viewers using ad blockers

Wikia is not accessible if you've made further modifications. Remove the custom ad blocker rule(s) and the page will load as expected.