To better cover the various aspects of the subject matter, this article has been split into one main page and several subpages. Select which one you wish to read.
Jane Boolittle was trademarked on May 06, 2013 and her first doll came out in Mid November, 2013. As of January 01, 2016, her doll number totals 3 and makes up 0.59% of the entire Monster High doll collection. Other merchandise of her is not yet available.
Dolls
Lone Signature dolls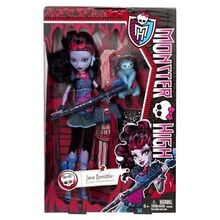 Doll: Jane has dark blue hair streaked with hot pink, all of which is tied into two ponytails. The upper one is tied into place by the lower one, creating a subtle poof on her head. Her makeup consists of pink and purple eyeshadow, maroon lipstick, and blue dots on her cheeks.
Clothes: She wears three pieces of clothing, starting with a strapless short dress. The top of the dress is hot pink with pink right-to-left diagonal double-stripes, while the skirt portion is made of light blue sheer. Underneath are black, knee-length leggings with serrated hems, and on top is a short blue tank top with a left-to-right diagonal lower hem and pink stitching. It has a print of blue flora on a dark blue background and short blacks fur-sleeves.
Accessories: Jane has mismatched blue wedges that cover up to 3/4th of her crura, with the left having a snake winding up her leg and the right a complex network of bands decorated with rivets and feathers. Both shoes have a red skullette on the toe-straps and leaves on the wedges. The light blue earrings are mismatched too: the one in her left ear is a bone with one large and two smaller faethers ties to it while the one in her right ear is a circular stud with a fang attached to it. Just above Jane's forehead rests a vermilion headpiece with a winged Skullette in the center. The rest of the headpiece is a string of beads with three fangs protruding from it on both sides. She also has a dark blue shoulderpiece adding a layer of feathers over her fur-sleeves. Among her more conventional accessories is a vermilion necklace that is partially a three-ringed choker and partially a wider type of neck jewelry as base. This base is decorated with seven ellipses, of which the three middle ones are painted blue, and has seven fangs dangling from the bottom edge. There is a dark blue belt with three Skullettes in the middle of eight fangs, feathers hanging from the Skullettes, and red accents. Jane's final pieces of jewelry are four pieces of armwear: a thick, dark blue, and slitted bracelet on her right arm, a black sheer arm warmer on her left forearm, and over that two simple bracelets in the colors light blue and hot pink. Jane comes equipped with a dark blue padded medical bag with a red and feathered bamboo handle and a red skullette clasp as well as a dark blue staff with a red-ribboned Skullette up top and a molded blue feathered scarf. Her bag contains three sheets of paper with purple trees on the edges.
Extras: This doll comes with a Needles figurine, a black doll stand and brush, and a diary. Jane's staff can be opened at the bottom to reveal a working purple felt-tip marker.
Notes: The necklace, medical bag, and purple bracelet that appear in the stockphoto are colored differently than the accessories of the doll available in stores. The actual necklace has only the middle three ellipses painted light blue, the actual medical bag has no light blue areas at all, and the purple bracelet actually is light blue.
Gloom and Bloom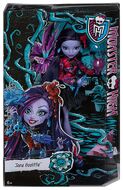 Doll:
Clothes:
Accessories:
Extras:
Notes:
Ghouls' Getaway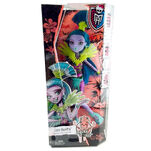 Doll:
Clothes:
Accessories:
Extras:
Notes:
Notes
Jane's lone 'Signature' doll has teal earrings, whereas they are red in the webisodes.
Gallery
Ad blocker interference detected!
Wikia is a free-to-use site that makes money from advertising. We have a modified experience for viewers using ad blockers

Wikia is not accessible if you've made further modifications. Remove the custom ad blocker rule(s) and the page will load as expected.