To better cover the various aspects of the subject matter, this article has been split into one main page and several subpages. Select which one you wish to read.
Isi Dawndancer was trademarked on April 28, 2014 and her first doll came out in Late October, 2015. As of January 01, 2015, her doll number totals 0 and makes up 0.00% of the entire Monster High doll collection. Other merchandise of her is not yet available.
Dolls
Brand-Boo Students
| | |
| --- | --- |
| | |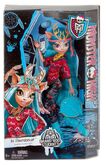 Doll: Isi differs from most of the other dolls in that she features with deer like ears and hoofed feet instead of normal toes. Her skin is a medium reddish brown, with off white blushing on her face, white freckles and a black nose.She features Light brown eyes, brown eyebrows. Her makeup consists of dark grayish purple eyeshadow and salmon lipstick. Her hair is styled long and straight with a middle part and is teal.
Clothes: Isi sports a black halter neck bodysuit with a Native American inspired pattern. Over the bodysuit, she wears a red off the shoulder bell sleeved blouse with a Native American inspired pattern.
Accessories: Isi has one pink triangle earring, two sets of triangular bangles in blue and pink and a yellow pearl necklace with a crescent moon pendant. She wears a pink headband with a dreamcatcher hanging off the left side and features a removeable set of light brown antlers adorned with a blue seal. Her shoes are a pair of calf high peep toe slingback wedge boots with three layers of fringe above it. There is a dreamcatcher strapped to the front of the shoes and the wedge of the shoe features another Native inspired pattern. She comes with a blue beaded and feathered dreamcatcher bag with gold trim. The bag can be opened and closed.
Extras:
Notes:
Gallery
Ad blocker interference detected!
Wikia is a free-to-use site that makes money from advertising. We have a modified experience for viewers using ad blockers

Wikia is not accessible if you've made further modifications. Remove the custom ad blocker rule(s) and the page will load as expected.