To better cover the various aspects of the subject matter, this article has been split into one main page and several subpages. Select which one you wish to read.
Iris Clops was trademarked on July 16, 2013 and her first doll came out on July 24, 2014. As of January 01, 2015, her doll number totals 1 and makes up 0.29% of the entire Monster High doll collection. Other merchandise of her is not yet available.
Dolls
San Diego Comic-Con International dolls


Doll: Iris's hair is a dark green and set into rope twist pigtails with bangs. She wears pink eyeshadow around her eye and sports light olive green lipstick.
Clothes: Iris wears a long sleeved pink ruffle dress with leggings and a sleeveless bolero jacket. Her jacket features a black leather cut up collar and a pink scrolling pattern. her dress is plain pink with a black belt above the skirt and flares out into a ruffled out skirt. Underneath, she sports shiny black leggings.
Accessories: Iris wears a pair of pink Mary Jane heels with eyeball patterns. She holds a pink bag with an eyeball surrounded by scrolling pink patterns.
Extras: Both Iris and Manny come with Stands and their respective diaries.
Notes: The doll is only available in a 2-pack with Manny Taur, which is exclusive to San Diego Comic-Con International 2014.
I Heart Fashion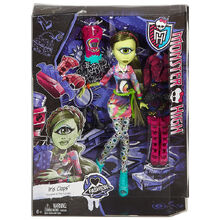 Doll: This Iris has a simple yet elegant hairdo, consisting of a ponytail at the back of her head, bangs pulled to the side and a pink streaked rope twist braid crown that divides the bangs from the rest of the ponytail.Iris sports teal eyeshadow around her eye, along with deep green lipstck.
Clothes: Iris Comes with 3 outfits, Mostly drawing inspiration from her cyclops theme but with a modern flair.
Outfit On Iris - Iris wears a tight fitting 3/4 sleeve dress with a circular neckline. The pattern consists of various paint stains in no specific order, as well as an artistic drawing of an eye with a rainbow iris.The outfit also comes with a pair of eyeball patterned leggings.
Outfit 2 - This dress is a short black semi sweetheart neckline dress with a glittery black peplum and is printed with metallic pink, yellow, navy blue and purple eyeballs with batwings pattern. This outfit is paired with a pink bolero jacket with long sleeves, and is a magenta colour with black staining.
Outfit 3 - A pink V Neck tank top with a Iris' Skullete printed several times in various colours and a medium length skater skirt with what looks like a composition notebook pattern emblazoned with skulletes.
Accessories: She also comes with a wide range of accessories. Featuring in her main outfit she has a pair of eyeball earrings, a chain necklace with a winged eyeball charm, 4 bangles in pink, blue, yellow and green, a green rope belt, a black purse with molded eyeballs and a pair of blue heeled sneakers with an open eye printed on the left shoe and a closed eye on the right one, as if blinking. The extra accessories are: a big teal belt with an eye-looking buckle, a blue choker, an orange and pink pair of bracelets, a black recast version of her Mary Janes worn on the SDCC release and a pair of Hot pink gladiator style boots with studded and bow collared top and eyeball bows down the front that lead to a black stud trimmed heel.
Extras:
Notes: Iris Clops and the other I Heart Fashion dolls are all Toys 'R' Us exclusive.
Gallery
Ad blocker interference detected!
Wikia is a free-to-use site that makes money from advertising. We have a modified experience for viewers using ad blockers

Wikia is not accessible if you've made further modifications. Remove the custom ad blocker rule(s) and the page will load as expected.