Ad blocker interference detected!
Wikia is a free-to-use site that makes money from advertising. We have a modified experience for viewers using ad blockers

Wikia is not accessible if you've made further modifications. Remove the custom ad blocker rule(s) and the page will load as expected.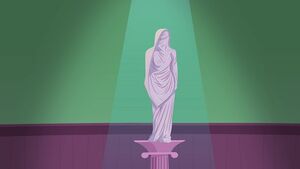 Irene Maiden is a 2010-introduced and cartoon-only character. She is an unspecified kind of monster and a teacher at Monster High. In fact, she is one of the original teachers of Monster High.
Personality
Irene Maiden is one of the original teachers of Monster High, who got herself somehow stuck in a Greek statue without anyone knowing. She remained locked up for 2000 years.
Classic Monster
Irene Maiden is a reference to the iron maiden, a torture device invented sometime around 1800 as a fake remnant of the "barbaric" Middle Ages. The iron maiden is an iron cabinet that people could be locked inside, which reflects the fact that Irene Maiden was trapped in a statue. If someone was put inside it, the person either immediately died or bled to death by the pins inside the cabinet.
Appearances
Volume 1
Ms. Maiden became stuck in a statue 2000 years ago without anyone knowing. The statue remains within the Monster High hallways until one day, Cleo and Frankie collide. One of Cleo's bandages gets stuck around Frankie's neck bolt and the subsequent struggle to get free makes Frankie's neck bolt snap loose and knock over Ms. Maiden's statue. This sets her free. It is unknown if she resumed her job as a teacher. Totally Busted