To better cover the various aspects of the subject matter, this article has been split into one main page and several subpages. Select which one you wish to read.
Invisi Billy was trademarked on April 16, 2012 and his first doll came out in Late June, 2014. As of January 01, 2015, his doll number totals 1 and makes up 0.29% of the entire Monster High doll collection. Other merchandise of his is not yet available.
Dolls
New Scaremester
Doll:
Clothes:
Accessories:
Extras:
Notes:
Maul Monsteristas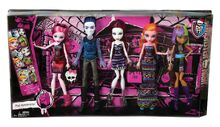 Doll:
Clothes:
Accessories:
Extras:
Notes:
Gallery
Merchandise gallery
Notes
Invisi Billy was officially introduced to the fanbase as an April Fools' Day joke in 2012. Both the Monster High Facebook account and the Gory Gazette were updated with pictures and articles on a new student at Monster High. The pictures contained empty boxes, with the taunting quote "How do you know I am not in the box?", while the profile revealed that Invisi Billy was a prankster. Later on April Fool's Day, Mattel announced the joke, explaining that Invisi Billy was real but that he wouldn't come out any time soon.
Ad blocker interference detected!
Wikia is a free-to-use site that makes money from advertising. We have a modified experience for viewers using ad blockers

Wikia is not accessible if you've made further modifications. Remove the custom ad blocker rule(s) and the page will load as expected.