| | |
| --- | --- |
| | To better cover the various aspects of the subject matter, this article has been split into one main page and several subpages. Select which one you wish to read. |
Invisi Billy
Characters
Birthdayo
N/A
Age
15
Pet
I had a dog once, but I had to give him away because every time I took him out for a walk, animal control would try and pick him up as a stray. Now I have a box, which may or may not contain a cat.
BFFs
I can blend in with any crowd.
Read the full profile
None Available
Invisi Billy is a practical joker with a twisted sense of humor. His art, bio and box were released on the Monster High Facebook account and the Gory Gazette on April 1, 2012 to correspond with the theme of joker, and also be a little joke of its own.
Portrayers
Invisi Billy is voiced in English by Evan Smith.
Character
Personality
Invisi Billy is a trickster who hates going unnoticed.
Appearance
Billy has an icy blue skin tone which looks almost white, gray eyes, and his hair is a dark shade of blue when he is visible. When he is invisible he is completely transparant with little sign of him being there.
Classic Monster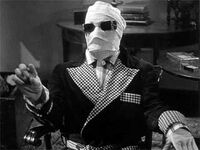 Invisi Billy is based on the titular scientist from the science fiction novella The Invisible Man by H.G. Wells, and the 1933 film adaption by Universal Studios.
The invisible man in the story is called Dr. Griffin (Dr. Jack Griffin in the film), and he used himself as guinea pig in an experiment to alter the refractive index of living bodies to that of air, so that light would no longer be absorbed or reflected and the subjects therefore would be invisible. It didn't take him long to abuse his power, eventually resulting in his demise. Upon death, his body became visible again.
Relationships
Family
Invisi Billy is the son of the Invisible Man.
Pet
Invisi Billy used to have a pet dog, but he had to give him away because he couldn't walk the poor thing without people thinking he was a stray. Since then, Invisi Billy has acquired a box, which may or may not contain a cat which on his box is called "a quantum cat".
Romance
Invisi Billy is popular with the ladies, who've started calling him "Drop Dead Dreamy"! His own dream-girl is Scarah Screams, whom he hooked up with in "Scarah-Voyant".
Timeline
April 16, 2012: Mattel requests the trademark for Invisi Billy.
April 20, 2012: Invisi Billy makes his 2D cartoon debut in "Unearthed Day".
Notes