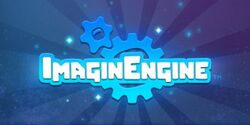 ImaginEngine is a Framingham, Massachusetts-based videogame studio. It was founded in 1994 by Jon Goldman and Mark Loughridge. Since that time, it has gone through two merges: in 2003 with Digital Eclipse Software which resulted in Backbone Entertainment, and in 2005 with The Collective, Inc. and Pipeworks Software to form Foundation 9 Entertainment. Foundation 9 Entertainment is an entertainment multimedia conglomerate which uses its varous studios to appeal to specific market segments. In this setup, ImaginEngine is used to keep a hold on the casual videogame market, though the studio's been trying to expand to the advanced video game market since 2007.
ImaginEngine developed Ghoul Spirit for the Nintendo Wii, DS, and DSi. It was released worldwide in the last quarter of 2011 and distributed by THQ.
Notes
ImaginEngine also developed the videogame version of Apples to Apples, a card game currently published by Mattel. The card game version of Apples to Apples was referenced in "Game of DeNile" as Gargoyles to Gargoyles.
External links
Ad blocker interference detected!
Wikia is a free-to-use site that makes money from advertising. We have a modified experience for viewers using ad blockers

Wikia is not accessible if you've made further modifications. Remove the custom ad blocker rule(s) and the page will load as expected.