The
Monster High
version of the
iPhone
, it is a cell phone that almost each of the characters in the franchise has. An iCoffin itself is mostly just a coffin-shaped cell phone (hence the name "iCoffin").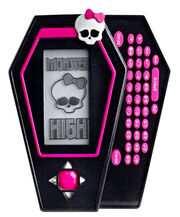 This phone is the main type of technology in Monster High. Oddly enough, there isn't any other type of phone talked about in the show, while Cleo's Basic doll has a regular cell phone on her leg of her outfit.
In the show, the iCoffin is generally purple (with the exception of Cleo's, which is gold and studded with crystals). It's a slide phone, and there appears to be no other variations of the iCoffin (eg. iCoffin 4).
In "Why Do Ghouls Fall in Love?" every single one of the monsters pulls out an iCoffin when Clawdeen pulls out hers. This probably means that they all have them.
In "Escape From Skull Shores", the iCoffins have gone from button phone to touch screen phone.
Notes
There is a real-life toy or item by the same name, such as the picture above, which can be used as a real phone and requires a password or passcode.
Its Ever After High counterpart is the

MirrorPhone

, which is also based on an iPhone.
There is another "i" brand device known as an iTomb, which is based on an iPod.
There is only one variation of the iCoffin phone, unlike the iPhone, which has variations such as iPhone 4, 4S, 5, 5S, 5 Plus and more.
Ad blocker interference detected!
Wikia is a free-to-use site that makes money from advertising. We have a modified experience for viewers using ad blockers

Wikia is not accessible if you've made further modifications. Remove the custom ad blocker rule(s) and the page will load as expected.