To better cover the various aspects of the subject matter, this article has been split into one main page and several subpages. Select which one you wish to read.
Howleen Wolf was trademarked on October 23, 2007, which was eventually abandoned and the name re-trademarked on December 19, 2011. Her first doll came out in Early March, 2012. As of January 01, 2015, her doll number totals 6 and makes up 1.76% of the entire Monster High doll collection. Other merchandise of her is currently limited to costumes .
Dolls
Campus Stroll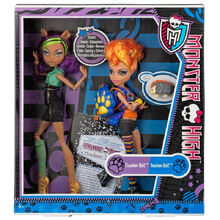 Howleen Wolf wears an A-shirt of which the upper half is black and the lower half orange. The black portion features an image showing five faces of the moon through a blue fog. Over this she wears a dark blue, sleeveless jacket with hoodie and paw prints in the colors red, light blue, and hot pink. Howleen sports black shorts with yellow lining, of which the left pant leg ends in a blue stripe decorated with yellow circles. The shorts are held up by a single suspender that goes from her left hip to her right shoulder and back, and matches the look of her left pant leg. Along her right leg she wears a leg-long sock featuring horizontal blue, orange and yellow stripes. Along her left leg she sports a pink sock that doesn't reach higher than her calf. Her shoes are black with wedge heels, blue straps, yellow buckles, yellow studs, and a small yellow chain. She accessorizes with an orange necklace with paw print pendant, a yellow safety pin through her left ear, a long yellow bracelet with three straps and blue buckles on her left arm, and three simple bracelets in the colors blue, black, and pink on her right arm.
The doll comes with a blue and yellow backpack in the shape of a pawprint and sporting orange straps, a Cushion figurine, and a diary.
Howleen's stockphoto shows her with a yellow brush, implying she comes with a yellow doll stand. The doll has never been put on the market with those, lacking a brush and stand altogether. The doll was also only sold in a 2-pack with the 'Campus Stroll' Clawdeen Wolf doll.
Dance Class
Howleen is featured in the "Dance Class" line of dolls. Here, her area of expertise is Hip Hop. The Diva styles her hot pink hair into two bouncy ponytails, and her ears are pierced with yellow earrings. She sports a one strap, baby blue leotard, patterned with paw prints and arrows, and also wears black compression pants, also adorned with light blue and pink paw prints. She has a hot pink safety pin belt with headphones hanging off of them. On her feet, are baby blue sneakers, with hot pink lacing. As an accessory, she totes around a black bag in the shape of a stereo, with light pink accents.
13 Wishes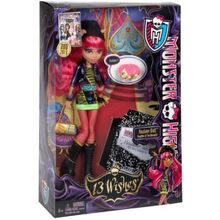 Doll:
Clothes:
Accessories:
Extras:
Notes: There is nothing of note about this doll's availability or stockphoto.
Creepateria

Doll: Howleen has her hair pink and blue streaked for the pompadour, and pink for the rest of the hair. The top area of her hair is pulled up, while the rest of her hair is pulled back and hangs loose. Howleen wears simple pink eyeshadow and bubblegum pink lipstick.
Clothes: Howleen wears a two piece skirt and t-shirt combo. The t-shirt is yellow trimmed at the collar and sleeves, features short black sleeves and a pink, yellow and black paw print and tear pattern. Her skirt is a blue trimmed pink to blue gradient cross bone pattern on a black background.
Accessories: Howleen wears a pair of pink sneaker boots with blue laces. The sneaker is etched with various details such as hearts, skullettes and paw prints.
Howleen also wears a pink recast of SDCC Wydowna's spiked bracelet.
She carries a blue coffin shaped two area tray with etched in spiderweb detail and the school crest emblazoned on. Her lunch is a yellow carton decorated with drips and a skull and crossbones logo. The Skull has ears and a horn, possibly implying the carton is a carton of milk. Her meal appears to be a hotdog with a line of mustard on it. the bun of the hot dog has bat wings.
Extras: This version does not include a stand or brush.
Notes:
A Pack of Trouble
Doll:
Clothes:
Accessories:
Extras:
Notes:
Geek Shriek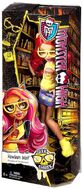 Doll:
Clothes:
Accessories:
Extras:
Notes:
Ghoul Fair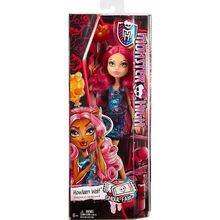 Doll: Howleen's hair is completely pink, center parted and let loose into a long curly hairstyle. Her eye makeup consists of light blue in the crease and pink around the rest of the eye area. Her lipstick is a shade of bubblegum pink
Clothes: Howleen wears a medium one shoulder dress that features a mesh undershirt sewn in on to cover both shoulders. The mesh part is all Blue and the dress features a blue, pink and black pop art pattern.
Accessories: Howleen wears a pair of blue cut out boots. The Straps give way to some balloon decorations and include safety pin designs and raised paw print design on the heel. The trim around the sole is studded.
Howleen also comes holding an orange Skullette balloon that is translucent.
Extras: This version does not come with a stand or brush.
Notes:
Gallery
Ad blocker interference detected!
Wikia is a free-to-use site that makes money from advertising. We have a modified experience for viewers using ad blockers

Wikia is not accessible if you've made further modifications. Remove the custom ad blocker rule(s) and the page will load as expected.