To better cover the various aspects of the subject matter, this article has been split into one main page and several subpages. Select which one you wish to read.
Honey Swamp was trademarked on April 03, 2014 and her first doll came out in Mid November, 2013. As of January 01, 2015, her doll number totals 1 and makes up 0.29% of the entire Monster High doll collection. Other merchandise of her is not yet available.
Dolls
Frights, Camera, Action! - Hauntlywood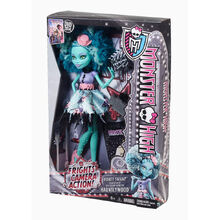 Doll: Honey's hair is spread out into a large afro of teal and pale green curls around her head. Her forehead is not covered, her eyeshadow is pink, and her lipstick is soft purple.
Clothes: The knee-length dress worn features a simple soft purple top with minimal sleeves. The collar is made from black lace, from which a black strip of fabric, with three white buttons on it, forms a vertical with a faint black band around her waist. The skirt portion consists of an upper green and white layer with a shredded lower edge and a pattern of pink and purple flowers with angry-looking faces on them in the presence of black twigs. This layer is puffed up by the layer of thick black fur underneath. Around her waist, Honey wears a pink belt designed to look like a structure of flowers and moss.
Accessories: Honey's all-pink open shoes hold the middle between wedges and heels. The heels are a separate structure, but they are in contact with the rest of the shoe until just above the ground. The heels are modeled after alligator tails and from the heel to the nose the shoes resemble an alligator head; eyes, teeth, and nose included. Her feet are held in place with a thick ankle strap looking like moss. Her jewelry consists of white pearl studs with angry faces curved into them as earrings that match a bracelet on her right wrist made from multiple such pearls. The look is finished with a small, pink, and flat bowler hat, attached to a black headband, situated on the right in front of the afro. It has a band of flowers resting on the brim. Honey further comes equipped with a handheld dual-reel film camera in grey and black with spider web designs on it and a serrated lens holder, as well as a black and white clapperboard with white teeth attached to the clapstick.
Extras: This doll comes with a black doll stand and brush as well as a diary.
Notes: The stockphoto does not display the bracelet that comes with the doll, and the clapperboard is a prototype design with more elaborate text than the version in stores and teeth that go in the chalkboard slate when closed instead of staying in front of it.
Freak Du Chic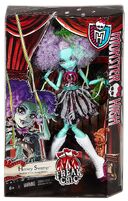 Doll: Honey's Afro is a lilac colour with a side streak of a mint green and styled into two sizeable pigtails to the sides of her head. She has circus inspired makeup around her eyes, consisting of black lines and dots, much like a clown. Her lipstick is duo toned and features her fangs. The upper lip is a hot pink colour, and the lower lip is a darer teal with a small vertical hot pink strip down the center of her lip. She also wears purple eyeshadow and pink makeup under the eyes. A unique feature to Freak du Chic, Honey's skintone is a bit more saturated in colour. Since this Honey is inspired on a living marionette her legs are a different plastic and they sit more loose, to give a real puppet effect. The wrists are also different. Instead of the regular joints, this Honey comes with a hook in her lower arms and the hands go in the hook.
Clothes: This doll displays a charming circus theme, as a living puppet. She wears a short puffy sweetheart neckline dress.. The top part of the dress also, above her bust, has horizontal lines in blue and purple. The dress is held by a strap that goes around her neck, also have back and white shaggy fabrics that also feature in her over skirt. Her dress has circus related patterns like swirls and polkadots, stripes and harlequin kites, all floating around on a black background. She also wears a fabric strand around her waist that it black and teal striped.
Accessories: She comes with a marionette handle, that looks like a spider web with a hook, a clown skulette and swirls, and strings that are attached to her arms like bracelets, a pink balloon animal inspired necklace as well as pair of white boots with alligator faces in the front, molded scales in the top, polkadots and studs, and green balloon animals for heels. The boots are very 80's, with molded laces. She also comes with a balloon animal, in green translucent plastic. The balloon has a hook that connects to her wrist.
Extras: She comes with a classical black stand, a brush and a circus poster that features her artwork.
Notes: Freak Du Chic Honey Swamp is considered a variant due to there being at least three known design variations to her dress that varies on a doll to doll basis. It's unknown if this was intended or if this was a production issue.
Gore-geous Accessories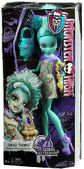 Doll:
Clothes:
Accessories:
Extras:
Notes:
Gallery