To better cover the various aspects of the subject matter, this article has been split into one main page and several subpages. Select which one you wish to read.
Heath Burns was trademarked on February 18, 2011 and his first doll came out in Late May, 2013. As of January 01, 2015, his doll number totals 1 and makes up 0.29% of the entire Monster High doll collection. Other merchandise of him is not yet available.
Dolls
Classroom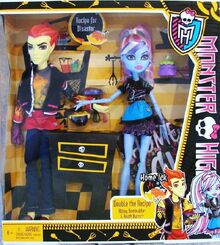 Heath wears a grey tee shirt with a yellow, orange and flame pattern bursting from the bottom of the shirt. He has blue jeans and a red apron with the MH logo, tied together by a dark grey bow. He has the typical black MH varsity jacket, with pink and white cuffs, collar and pockets, with flames running up the sleeves. He has a red, spiderweb patterned oven mitt, and black canvas shoes with flames on the top and white soles. Heath comes with his cooking partner Abbey, a half burning, half frozen plate of food, a bone handled spoon, a pair of bone handled tongs, a measuring cup, a jar with eyeball lid and a plate of yaks cheese and a diary/cookbook detailing Abbey and his cooking adventures.
Ghoul Fair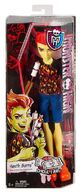 Doll:
Clothes: Heath is wearing a black shirt with fire designs, blue denim shorts and bright orange shoes.
Accessories: Heath comes with a stick and seemingly roasted marshmallows.
Extras:
Notes:
Gallery
Ad blocker interference detected!
Wikia is a free-to-use site that makes money from advertising. We have a modified experience for viewers using ad blockers

Wikia is not accessible if you've made further modifications. Remove the custom ad blocker rule(s) and the page will load as expected.