And that is the story of Halloween.
—The Hall of Halloween Skeleton in "Ghouls Rule"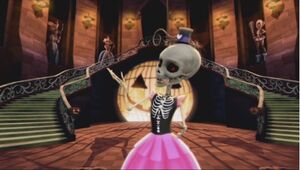 The Hall of Halloween Skeleton is, presumably, a non-living robot in the shape of a skeleton. She is the automated keeper of Hall of Halloween, a location in the catacombs where the true origins of Halloween are kept. She runs on electricity, meaning her mechanism can't be older than some 200 years, and she moves around with her back attached to a large mechanical arm. The Hall of Halloween Skeleton is voiced by Cindy Robinson.
Appearance
The Hall of Halloween Skeleton wears a black mini-top hat with a purple band around it. It is decorated with a purple heart and black swirl. Her dress is sleeveless with pink trim around the shoulders. The top part is black and displays a white spine and ribcage, along which six pink buttons are placed. The lower part of her dress is a four-layered pink shirt, of which the second and third layer sport black lace as trim. She does not wear shoes.
Appearances
In "Ghouls Rule", the Hall of Halloween Skeleton was activated when Frankie, Operetta, Spectra, and Abbey found the Hall of Halloween. Despite being affected by age and having her mechanism hiccup on her, she gave the tour fully.
When later the Halloween party took place in the hall, the Hall of Halloween Skeleton appeared one last time to confirm things were now as they should be.
Notes
The Hall of Halloween Skeleton seems lightly based on the Create-A-Monster Skeleton add-on pack.
Ad blocker interference detected!
Wikia is a free-to-use site that makes money from advertising. We have a modified experience for viewers using ad blockers

Wikia is not accessible if you've made further modifications. Remove the custom ad blocker rule(s) and the page will load as expected.